A special coincidence is being made for sun worship on 12th December, sun worship keeps the body healthy, gets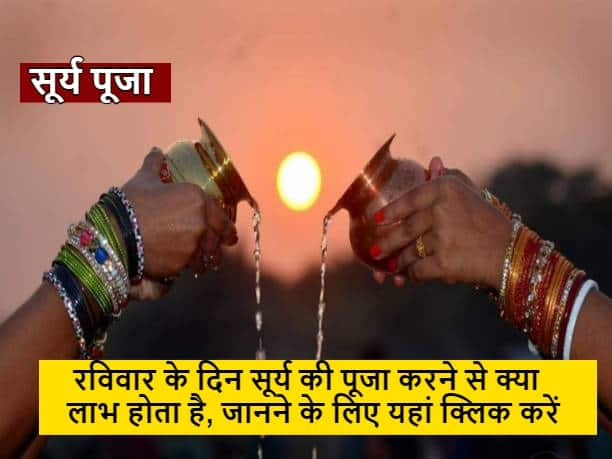 Panchang 12 December 2021, Surya Dev Puja Vidhi: According to the Panchang, December 12, 2021, is the ninth date of Shukla Paksha of Margashirsha month on Sunday. On this day the Moon is transiting in Pisces. Sun will be present in Scorpio on this day. Where Mars and Ketu are also situated. Sunday is considered the best day for sun worship. What are the benefits of sun worship on Sunday and how the worship is done, let us know-
In Hinduism, the Sun God has been described as the factor of life. Light and energy are obtained from the sun. The worship of Sun God is prevalent in Hinduism. Sunday is dedicated to the worship of the Sun. It is believed that by worshiping the Sun God and observing fast on Sunday, one gets rid of many diseases and there is rapid development of strength and intelligence. Of all the gods, the sun and the moon are the only gods whom the eyes can see. Sunlight protects from many diseases.
It is a religious belief that if one is not able to worship the Sun God every day, then he can get benefits by worshiping him on a Sunday. Worshiping the Sun God brings positive energy in the house. Due to this, a calm and healthy environment remains in the family. According to astrology, by worshiping the Sun God, wisdom, prudence, strength and splendor are also attained. Sun is also considered as the factor of soul. Sun is the king of all the planets. Along with this, Sun has also been described as a factor of success and respect in government jobs.
Do this remedy on Sunday
The Sun God is pleased by feeding bread to the cow on Sunday. Therefore, to please the Sun God, every cow should be fed roti. If you are not able to feed roti to the cow every day, then definitely feed it on Sunday. Feeding roti on Sunday also gives virtue for the rest of the days.
Offer arghya to Sun God like this
According to astrology, the Sun God likes red color very much. While offering Arghya to the Sun God, pouring a pinch of kumkum in an urn filled with water should be offered, along with this red sandalwood can also be used. On this day, red colored flowers should be offered to the Sun God. Feeding flour tablets to fish on Sunday also increases the auspiciousness of the Sun. By doing this, the problems coming in the job etc. are removed and prosperity and peace come.
Do not do this work on Sunday
Consumption of oil and salt should be avoided on Sundays.
One should not buy or sell items made of copper on Sundays.
Chant Surya Mantra
Hran Hrin Hrun Number: Suryay damp:
Read also:
New Year 2022: If you are going to start the year 2022, then definitely consider these things once, success will kiss.
To avoid loss of money in 2022, people of this zodiac should do this work, Lakshmi will be happy
,