A sumptuous Gallo-Roman ceiling discovered in Chartres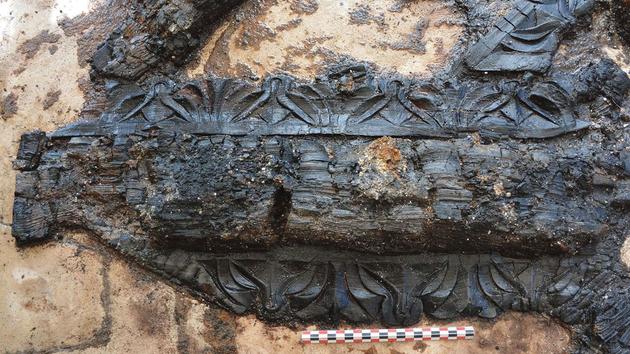 STORY – Archaeological excavations have uncovered a unique and very complex wooden structure, preserved for two millennia.
The almost two-thousand-year-old framework is now more like a giant puzzle than carpentry. The pieces of wood that made it up have been lying in the water for nearly 2000 years in the city of Chartres. Unearthed in 2018, this Gallo-Roman suspended ceiling was undoubtedly a sumptuous work of art. It is now a unique piece: very perishable, wood has survived the centuries very poorly, and only one comparable structure had so far been revealed. This is a ceiling discovered in Herculaneum, martyred city of Vesuvius in 79 AD.
Read alsoIntriguing Gallic statues discovered in the Loiret
"The ceiling of Herculaneum is exceptional, because rare, but seems quite classic in its design., explains Emmanuel Bouilly, specialist in wooden structures and archaeologist at the Archeology Department of Chartres Métropole. Here, we are not only in front of a rare piece, but also sumptuous and particularly complex in its construction. " In the ceiling of Chartres, the pieces of lime tree cut with astonishing ingenuity
This article is for subscribers only. You have 83% left to discover.
Pushing back the limits of science is also freedom.
Continue reading your article for € 1 the first month
Already subscribed? Log in
.