Aaj Ka Panchang 22 December 2021: Today is Sankashti Chaturthi, this is today's auspicious time and Rahu Kaal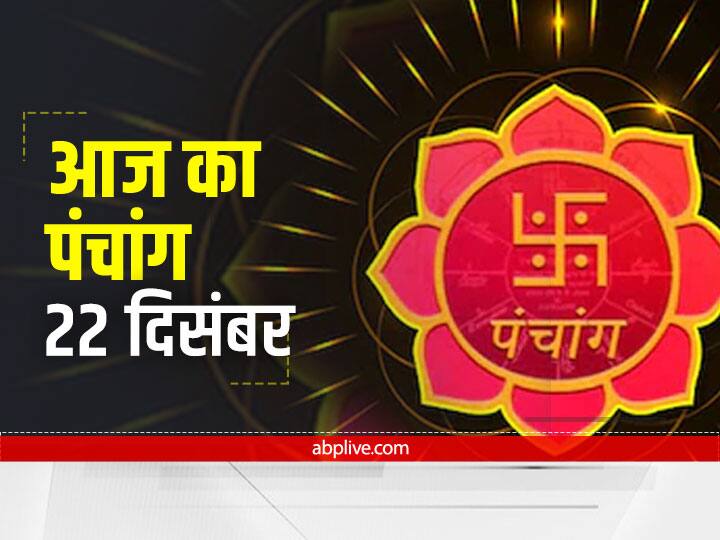 22 December 2021 Aaj Ka Panchang: 22 December 2021 is a Wednesday. According to the Panchang, the Moon will remain in Cancer sign today. What is special today? Let us know the auspicious time and Rahu period.
Today's date (Aaj Ki Tithi): 22 December 2021, Wednesday is the date of Tritiya of Krishna Paksha of Paush month. Which will last till 4:54 pm. After this the date of Chaturthi will start. Today is a good day from religious point of view. Let's know today's Panchang-
Today's Nakshatra (Aaj Ka Nakshatra): According to the Panchang on 22 December 2021, there is Pushya Nakshatra. Indra Yoga is being formed on this day. Pushya Nakshatra is also called the king of all constellations.
Ganesh Ji Puja: Today is Wednesday. Wednesday is considered auspicious to please Ganesha. Today is also the date of Chaturthi. According to the Panchang, the date of Chaturthi is starting at 4:54 pm.
Today's Rahu Kaal (Aaj Ka Rahu Kaal)
According to the Panchang, on 22 December 2021, Rahukal will remain from 12.19 pm to 1.36 pm on Wednesday. Doing auspicious work in Rahukaal is considered taboo.
Panchang 22 December 2021
Vikrami Samvat: 2078
Month Purnimant: Paush
Paksha: Krishna Paksha
Day: Wednesday
Date: Tritiya – till 16:54:54
Nakshatra: Pushya – till 24:45:16
Karan: Vishti – till 16:54:54, Bav – till 29:45:39
Yoga: Indra – till 12:01:12
Sunrise: 07:09:52 AM
Sunset: 17:29:03 PM
Moon: Cancer
Dric season: Hemant
Rahukaal: 12:19:28 to 13:36:52 (no auspicious work is done during this period)
Auspicious time, Abhijit Muhurta – none
Direction: North
Inauspicious timing –
Wicked Muhurta: 11:58:50 to 12:40:06
Kulik: from 11:58:50 to 12:40:06
Kalvela / Ardhyam: from 07:51:09 to 08:32:26
hours: from 09:13:43 to 09:54:59
Kantak: 16:06:30 to 16:47:47
Yamgand: From 08:27:16 to 09:44:40
Gulick time: from 11:02:04 to 12:19:28
,