Aaj Ka Panchang 23 March 2022: Today's date is Shashti and Nakshatra is Anuradha, know today's Rahukal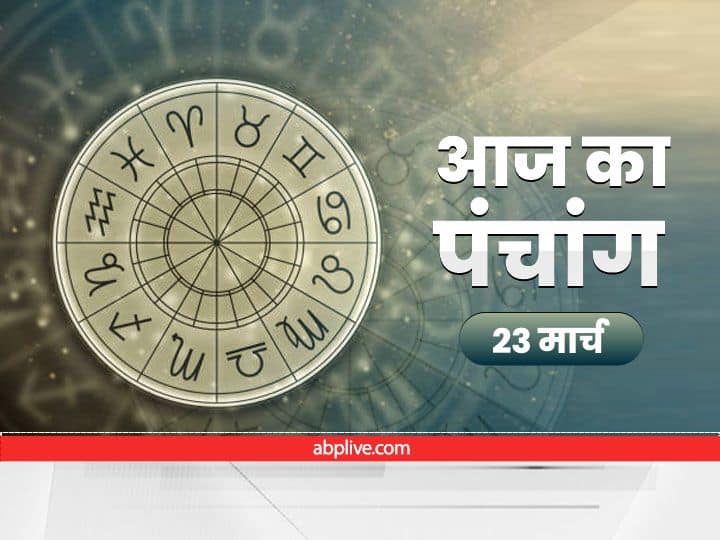 Aaj Ka Panchang 23 March 2022: 23 March 2022 Wednesday is a special day. According to the Panchang, the Moon will remain in Scorpio today. Let's know today's auspicious time and Rahukal.
Today's date (Aaj Ki Tithi): 23 March 2022 is the date of Shashti of Krishna Paksha of Chaitra month. Which will remain till 6.26 am in the morning.
Today's Nakshatra (Aaj Ka Nakshatra): According to the Panchang, Anuradha Nakshatra is on 23 March 2022. Which will remain till 6.53 pm in the evening.
Today's Rahu Kaal (Aaj Ka Rahu Kaal)
According to the Panchang, Rahukal will remain from 12.28 pm to 1.59 pm on Wednesday, March 23. It is considered taboo to do auspicious work during Rahu Kaal.
Ganesh puja
Today is Wednesday. This day is dedicated to Ganesha. By fasting and worshiping Lord Ganesha, one gets freedom from troubles. There is happiness and prosperity in life. Ganesh ji is pleased by offering Durva grass and Modak on Wednesdays.
Astrology: The girls of this zodiac are very lucky for their husband, they rule the husband's heart with their understanding.
23 March 2022 Panchang (Aaj Ka Panchang 23 March 2022)
Vikrami Samvat: 2078

Month Purnimant: Chaitra

Party: Krishna

Day: Wednesday

Season: Spring

Date: Shashti – up to 26:18:34

Nakshatra: Anuradha – till 18:53:03

Karan: Gar – till 15:21:34, Vanij – till 26:18:34

Yoga: Vajra – up to 10:18:55

Sunrise: 06:22:21 AM

Sunset: 18:33:50 PM

Moon: Scorpio

Rahu Kaal: 12:28:06 to 13:59:32 (no auspicious work is done during this period)

Auspicious time, Abhijeet Muhurta – none

Direction: North
inauspicious timing
Wicked Muhurta: 12:03:43 to 12:52:29

Kulik: from 12:03:43 to 12:52:29

Kantak: From 16:56:19 to 17:45:05

Kalvela / Ardhyam: from 07:11:07 to 07:59:53

Hours: 08:48:39 to 09:37:25

Yamgand: From 07:53:48 to 09:25:14

Gulick time: from 10:56:40 to 12:28:06
Chanakya Niti: In these circumstances, the qualities of a wife are recognized
In the month of Chaitra these zodiac signs will be blessed with special grace, promotion and new job can be given.
,