Aaj Ka Panchang 24 November 2021: Moon will transit in Gemini, know today's date, auspicious time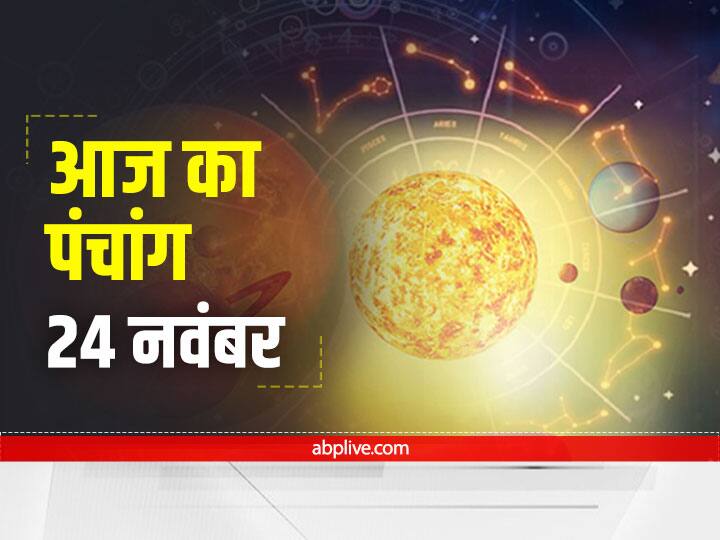 Aaj Ka Panchang 24 November 2021 : 24th November 2021 is Wednesday. According to the Panchang, the transit of Moon is happening in Gemini on this day. What is special today, let's know today's Panchang-
Today's date (Aaj Ki Tithi) : On Wednesday, 24 November 2021, is the date of Pratipada of Krishna Paksha of Margashirsha month, which will remain till 9.50 am in the morning. After this the Panchami date of Margashirsha Krishna Paksha will start.
Today's Nakshatra (Aaj Ka Nakshatra): According to the Panchang, there is Punarvasu Nakshatra on 24th November. On this day auspicious yoga is being formed.
Ganesh Puja: Wednesday is dedicated to Ganesha. Auspicious yoga is formed on this day. Worshiping Ganesh ji in auspicious yoga gives special merit. According to Shubh Yog Panchang, it will remain till 7.28 am in the morning.
Today's Rahu Kaal (Aaj Ka Rahu Kaal)
According to the Panchang, on 24 November 2021, Rahu Kaal will remain from 12:07 pm to 1.26 pm on Wednesday. Doing auspicious work in Rahu Kaal is considered taboo.
Panchang 24 November 2021
Vikrami Samvat: 2078
Month Purnimant: Margashirsha
Party: Krishna
Day: Wednesday
Date: Panchami – till 27:06:13
Nakshatra: Punarvasu – till 16:29:25
Karan: Kaulava – till 14:05:21, Taitil – till 27:06:13
Yoga: Auspicious – till 07:28:03
Sunrise: 06:50:28 AM
Sunset: 17:24:40 PM
Moon: Gemini – until 09:50:09
Dric season: Hemant
Rahukaal: 12:07:33 to 13:26:50 (no auspicious work is done during this period)
Auspicious time, Abhijit Muhurta – none
Direction: North
Inauspicious timing –
Wicked Muhurta: 11:46:25 to 12:28:42
Kulik: from 11:46:25 to 12:28:42
Kalvela / Ardhyam: 07:32:44 to 08:15:01
hours: from 08:57:18 to 09:39:35
Kantak: From 16:00:06 to 16:42:23
Yamgand: From 08:09:44 to 09:29:00
Gulick time: from 10:48:17 to 12:07:33
read also
Horoscope: The days of November 24 and 25 are special for these zodiac signs in terms of money and health, do not do this work
Girls who have this 'Zodiac', will have to be careful till April 2022, Shani Dev can disturb, do not do this work, know the remedy
,