Aaj Ka Panchang 27 January 2022: Worship Lord Vishnu, this is today's constellation, auspicious time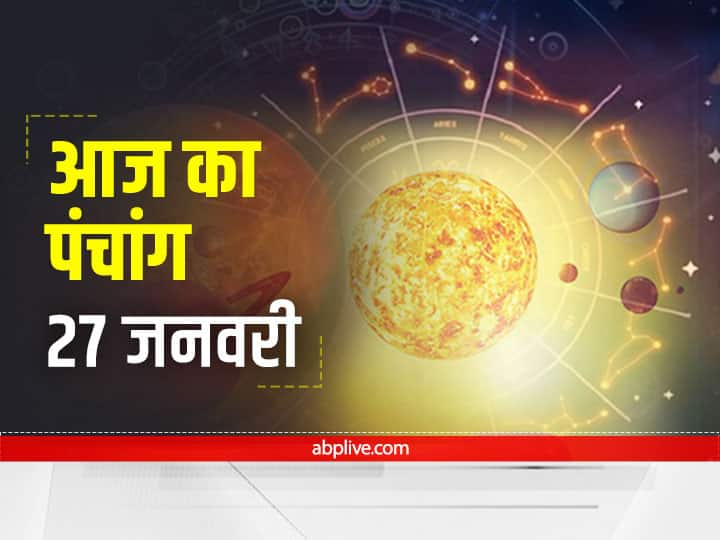 Aaj Ka Panchang 27 January 2022 : 27 January 2022 Thursday is a special day. According to the Panchang, the Moon is transiting in Scorpio today. What is special today? Let us know the auspicious time and Rahu period.
eclipse yoga in scorpio
Today eclipse yoga is being formed in Scorpio. Ketu is already seated in Scorpio. When the Moon comes in contact with the malefic planets Ketu or Rahu, eclipse yoga is formed. It is not considered auspicious. Stay away from stress, controversy, anger and arrogance today with Scorpio zodiac.
Horoscope 27 January 2022 : On 27 January, these zodiac signs have to be careful in terms of money, know the horoscope
Today's date (Aaj Ki Tithi) : Thursday, 27 January 2022 is the date of Dashami of Krishna Paksha of Magha month. Today is a special day from the religious point of view.
Today's Nakshatra (Aaj Ka Nakshatra): According to the Panchang on 27 January 2022, there is Visakha Nakshatra. Which will remain till 8.51 am in the morning. After this Anuradha Nakshatra will start. Today Vriddhi Yoga is being formed.
Worship of Lord Vishnu
Thursday is dedicated to Vishnu. Today is Thursday of Magh month. Worshiping Lord Vishnu brings happiness and prosperity. Worshiping on this day also removes the inauspiciousness of the planet Jupiter. Lord Vishnu is pleased by offering yellow colored things and offering bhog on this day.
Shattila Ekadashi 2022: When is Shattila Ekadashi? Know the date, auspicious time and importance of sesame
Today's Rahu Kaal (Aaj Ka Rahu Kaal)
According to the Panchang, on 27 January 2022, Rahukal will remain from 1.54 pm to 3.14 pm on Thursday. Doing auspicious work in Rahukaal is considered taboo.
27 January 2022 Panchang (Aaj Ka Panchang 27 January 2022)
Vikrami Samvat: 2078

Month Purnimant: Magh

Party: Krishna

Day: Thursday

Date: Dashami – up to 26:19:13

Nakshatra: Vishakha – till 08:51:52, Anuradha – till 31:10:55

Karan: Vanij – till 15:31:14, Vishti – till 26:19:13

Sum: Increment – up to 25:02:54

Sunrise: 07:12:02 AM

Sunset: 17:55:58 PM

Moon: Scorpio

Rahukaal: 13:54:29 to 15:14:58 (no auspicious work is done during this period)

Shubh Muhurta Timings, Abhijeet Muhurta – 12:12:32 to 12:55:27

Direction: South
inauspicious timing
Wicked Muhurta: 10:46:40 to 11:29:36, 15:04:15 to 15:47:10

Kulik: from 10:46:40 to 11:29:36

Kantak: From 15:04:15 to 15:47:10

Kalvela / Ardhyam: 16:30:06 to 17:13:02

Hours: from 07:54:57 to 08:37:53

Yamgand: From 07:12:02 to 08:32:31

Gulik Hours: 09:53:01 to 11:13:30
Read also:
Astrology: Girls of this zodiac leave even boys behind in earning money
Chanakya Niti: If you want to get Lakshmi ji, then always keep this in mind, know Chanakya Niti
,