Aaj Ka Panchang: Know the date and transit of Moon on 27th October, Rahu Kaal on this day at 12 noon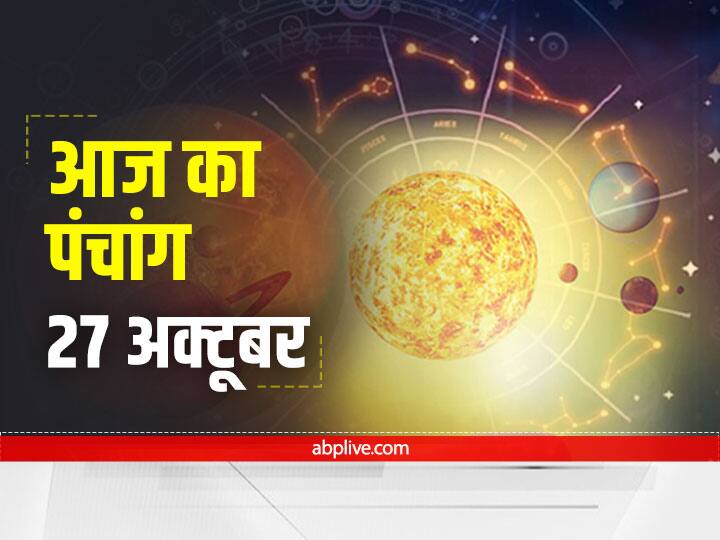 Aaj Ka Panchang 27 October 2021 : 27 October 2021, Wednesday is a special day. According to the Panchang, this day is the sixth date of Krishna Paksha of Kartik month. Moon is transiting in Gemini. A special coincidence is being made for the worship of Ganesh ji on this day. Wednesday is dedicated to Ganesha. On this day, offering Durva grass to Lord Ganesha fulfills his wishes. According to the Panchang, what is special from a religious point of view on this day, let us know-
Today's date (Aaj Ki Tithi) : 27 October 2021, Wednesday is the date of Shashti of Krishna Paksha of Kartik month. According to the Panchang, this day is Adra Nakshatra. According to the Panchang, Siddha Yoga is made on this day. Today's date is auspicious.
Today's Rahu Kaal (Aaj Ka Rahu Kaal)
According to the Panchang, on 27 October 2021, Rahu Kaal will remain from 12:04 pm to 01.28 pm on Wednesday. Doing auspicious work in Rahu Kaal is considered taboo.
Panchang 27 October 2021
Vikrami Samvat: 2078
Month Purnimant: Kartik month
Party: Krishna
Day: Wednesday
Date: Shashti – till 10:52:54
Nakshatra: Ardra – till 07:08:37
Karan: Vanij – till 10:52:54, Vishti – till 23:56:28
Yoga: Siddha – up to 26:07:16
Sunrise: 06:29:12 AM
Sunset: 17:40:30 PM
Moon: Gemini – until 27:06:18
dry season: autumn
Rahu Kaal: 12:04:51 to 13:28:46 (no auspicious work is done during this period)
Auspicious time, Abhijeet Muhurta – none
Direction: North
Inauspicious timing –
Wicked Muhurta: 11:42:28 to 12:27:14
Kulik: from 11:42:28 to 12:27:14
Kalvela / Ardhyam: from 07:13:58 to 07:58:43
hours: from 08:43:28 to 09:28:13
Kantak: 16:10:59 to 16:55:44
Yamgand: From 07:53:07 to 09:17:02
Gulick time: from 10:40:56 to 12:04:51
Read also:
Diwali 2021: On the night of Diwali, there will be four planets in Libra and two big planets in Capricorn, know the Panchang of Diwali and the timing of Lakshmi Puja.
Before 'Diwali', a special coincidence is being made on Pushya Nakshatra after 677 years, you will not have to see the Panchang for shopping
.