Aaj Ka Panchang: On October 30, it is Kartik Navami, the Moon will be in Cancer, know the auspicious time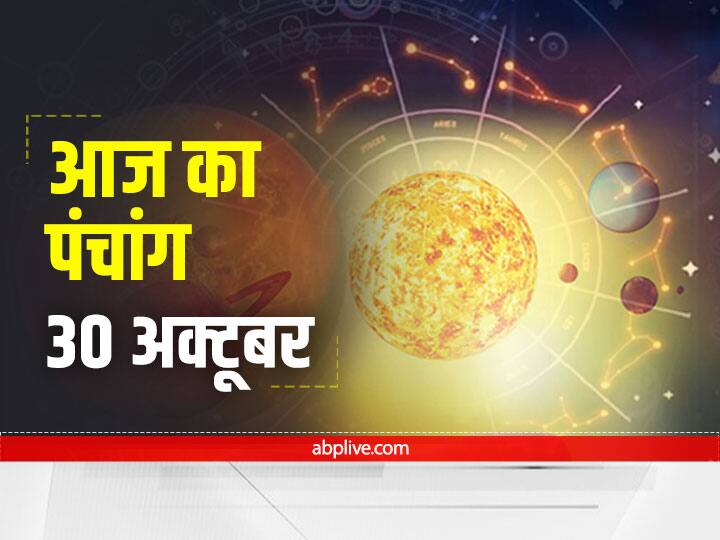 Aaj Ka Panchang 30 October 2021 : 30 October 2021, Saturday is a very special day. According to the Panchang, this day is the ninth date of Krishna Paksha of Kartik month. The transit of Moon will remain in Cancer sign. Ashlesha Nakshatra is also there on this day. On this day, there is a coincidence of worship of Shani Dev.
Worship of Shani Dev
Saturday is dedicated to Shani Dev. Worshiping Shani Dev on this day gives relief from Sadesati and Shani's dhaiya. On the other hand, for those people to whom Shani Dev is providing inauspicious results, this day is also a good opportunity to pacify Shani Dev. On this day, things related to Shani Dev should be donated. Shani Chalisa should be recited. By doing this Shani Dev is pleased.
Lunar Eclipse 2021: After the lunar eclipse, the problems of these zodiac signs may increase, if your zodiac sign is not included in this list, check it
Today's date (Aaj Ki Tithi) : 30 October 2021, Saturday is the date of Navami of Krishna Paksha of Kartik month. According to the Panchang, the date of Navami will end at 2.45 pm. After this the date of Dashami will start.
Today's Nakshatra (Aaj Ka Nakshatra): Ashlesha Nakshatra is on 30th October according to Panchang. Auspicious yoga is formed on this day.
Today's Rahu Kaal (Aaj Ka Rahu Kaal)
According to the Panchang, on 30 October 2021, Rahu Kaal will remain from 09:17 am to 10.41 am on Saturday. Doing auspicious work in Rahu Kaal is considered taboo.
Panchang 30 October 2021
Vikrami Samvat: 2078
Month Purnimant: Kartik month
Party: Krishna
Day: Saturday
Date: Navami – till 14:45:46
Nakshatra: Ashlesha – till 12:52:01
Karan: Kaulava – Gar – till 14:45:46, Vanij – till 26:44:05
Yoga: Shukla – till 24:58:21
Sunrise: 06:31:17 AM
Sunset: 17:37:59 PM
Moon: Cancer – until 12:52:01
Dric season: Hemant
Rahu Kaal: 09:17:58 to 10:41:18 (no auspicious work is done during this period)
Shubh Muhurta Timings, Abhijeet Muhurta – 11:42:25 to 12:26:51
Direction: East
Inauspicious timing –
Wicked Muhurta: From 06:31:17 to 07:15:44, from 07:15:44 to 08:00:11
Kulik: from 07:15:44 to 08:00:11
Kalvela / Ardhyam: from 13:11:18 to 13:55:45
hours: from 14:40:12 to 15:24:38
Kantak: From 11:42:25 to 12:26:51
Yamgand: From 13:27:58 to 14:51:18
Gulick time: 06:31:17 to 07:54:38
Read also:
Diwali 2021: Sindoor and mustard oil will save from evil eye on 'Diwali', Hanuman ji and Shani Dev also showers blessings with Lakshmi ji
November 2021: There is going to be a big stir in the month of November, the zodiac changes of Sun, Jupiter and Mercury are going to happen in these zodiac signs, all the zodiac signs will be affected.
.