Aaj Ka Panchang: The best month of Hindu calendar is starting from October 21, 'Karthik', know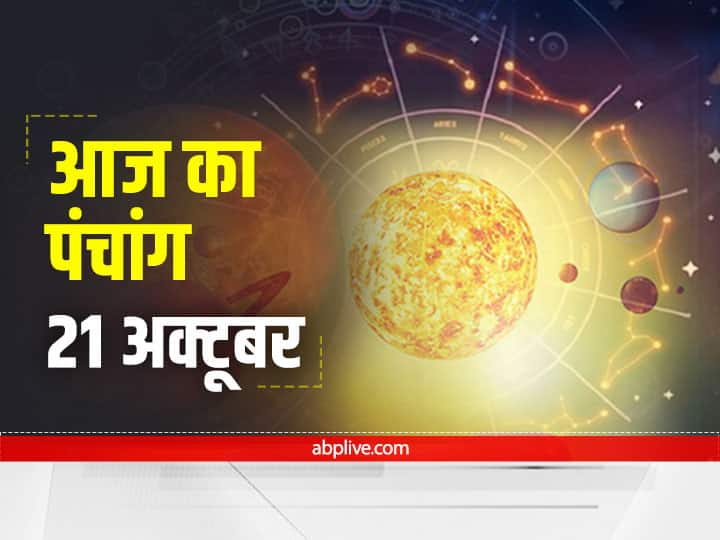 Aaj Ka Panchang, 21 October 2021 : 21 October 2021, Thursday is an important day. From this day a very special month of Hindu calendar i.e. Kartik month is starting. This month is also called Uttam month. The festival of Diwali is celebrated only in the month of Kartik. Kartik month is also considered as the last month of Chaturmas. The special importance of worshiping Tulsi in this month has been told. This month is also the favorite month of Lord Vishnu. Thursday is also dedicated to Lord Vishnu. Kartik month is starting from Thursday itself. According to the Panchang, what is special from a religious point of view on this day, let us know-
Today's date (Aaj Ki Tithi) : 21 October 2021, Thursday is the date of Pratipada of Krishna Paksha of Kartik month. According to the Panchang, this day is Ashwini Nakshatra. Moon will remain in Aries on this day. On this day Vajra Yoga is being formed according to the Panchang.
Kartika 2021: When is the Kartik month starting, Diwali, Narak Chaturdashi, Govardhan Puja and Bhai Dooj will be celebrated in this month
Today's Rahu Kaal (Aaj Ka Rahu Kaal)
According to the Panchang, on October 21, 2021, Rahu Kaal will remain from 11.42 am to 12.28 pm on Thursday. Doing auspicious work in Rahu Kaal is considered taboo.
Panchang 21 October 2021
Vikrami Samvat: 2078
Month Purnimant: Kartik month
Party: Krishna
Day: Thursday
Date: Pratipada – up to 22:18:40
Nakshatra: Ashwini – till 16:17:46
Karan: Balav – till 09:20:37, Kaulav – till 22:18:40
Yoga: Vajra – till 20:59:17
Sunrise: 06:25:16 AM
Sunset: 17:46:00 PM
Moon: Aries
dry season: autumn
Rahu Kaal: 13:30:44 to 14:55:49 (no auspicious work is done during this period)
Shubh Muhurta Timings, Abhijit Muhurta – 11:42:57 to 12:28:20
Direction: South
Inauspicious timing –
Wicked Muhurta: 10:12:11 to 10:57:34, 14:44:29 to 15:29:52
Kulik: from 10:12:11 to 10:57:34
Kalvela / Ardhyam:16:15:14 to 17:00:37
hours: from 07:10:39 to 07:56:02
Kantak: From 14:44:29 to 15:29:52
Yamgand: From 06:25:16 to 07:50:21
Gulick Time: 09:15:27 to 10:40:32
Read also:
Chanakya Niti: The mantra of success and blessings of Lakshmi ji is hidden in these precious things of Chanakya.
Economic Horoscope 21 October 2021: Leo, Libra and Capricorn people should be careful, know the horoscope of all zodiac signs
.