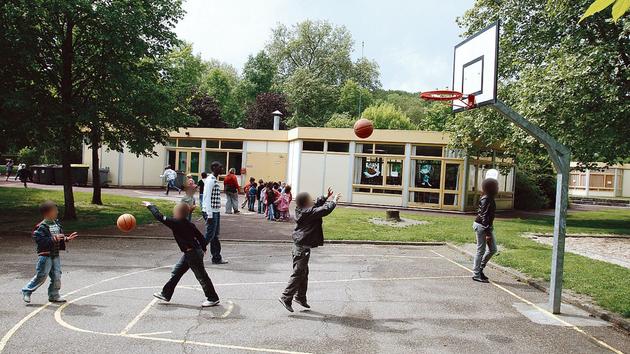 Advocating for a revolution in physical activity at school
TRIBUNE – Children of the XXIe century have lost more than 25% of their physical abilities compared to those of the late twentiethe century.
The current World Health Organization (WHO) health recommendations for children and adolescents aged 5 to 17 are to practice moderate to vigorous physical activity (PA) for one hour per day. But few young people respect these advice on good health, especially in France. Our country, rather dunce in this area, is at 119e place, out of 146 countries studied, with 82.4% of boys and 91.8% of girls who do not comply with these health recommendations. These recent data are not surprising since we have observed for several years the decline in the physical capacity of children and adolescents. Indeed, for lack of regular practice, the children of the XXIe century have lost more than 25% of their physical abilities compared to those of the late twentiethe century.
Knowing that the measurement of physical capacity is the best marker of health, today we are faced with a health emergency. Moreover, an American study confirms that the generation of millennials, born between 1981 and 1996, is in poorer physical and mental health than the previous generation. In fact, between 2014 and 2017, the proportion of hypertensive patients increased by 16% and the rate of depression increased by 31%.
Cities less accessible to walking, concerns about safety on the streets, the scarcity of playgrounds, natural laziness to minimize seemingly unnecessary efforts and, above all, the digital revolution have excluded physical activity from daily life of children. Overexposure to screens (computer, game console, television), which steals time for other essential activities, leads to another risk factor, sedentary lifestyle, defined by the time accumulated during the day in a sitting position, which must not be not exceed 8 hours. The physiology of children and adults cannot immediately adapt to this upheaval in the environment, which must therefore be quickly improved so that current and future generations can have a more active and healthy life.
It is known that physical activity must be practiced every day, since its positive effect lasts only 24 to 36 hours. We also know that the time spent inactive in front of a screen can double the days without school. Finally, everyone knows that benchmarks, healthy lifestyles, must be given from an early age, otherwise the alerts initiated by institutions, doctors, etc. will be much more difficult to pass.
So who else but elementary school can prevent or minimize this heralded public health crisis? Certainly, physical and sports education (EPS) has been compulsory in our school system since the 19th century.e century, but the numbers are stubborn: 90% of children are not active enough. There is a need for more daily physical activities in the current education system, especially as the less advantaged social categories are more prone to a sedentary lifestyle. The school, by its lack of physical activities integrated into its programs, does not reduce this inequality, which is the source of poor health, the medium and long-term consequences of which will be disastrous, both humanly and economically. It's intolerable.
Explain the risks of a sedentary lifestyle
We are not faced with the old hygienic concerns of the EPS because the doctors, simple whistleblowers, do not decide the aptitude or the level of practice of the pupils. All children, without exception, have the right to be supervised by competent teachers and must practice. We must no longer be satisfied with "initiation into physical exercise", with "discovery of sport". We must certainly explain the risks of physical inactivity and sedentary lifestyle, educate in prevention, obtain support, but above all practice, quite simply practice. All children must do 60 minutes of PE every day throughout primary school. In addition to physical literacy, this daily practice will have an impact on the psychic and intellectual level. Let us reassure the "academics", the scientific studies are clear, these five weekly hours of PE, even taken from the usual teaching, have a positive effect on academic success. A recent WHO study confirms this. But school time should not be reduced and children should not be left free to so-called extracurricular sports, since leisure hours outside of school hours are mainly used for sedentary activities. Make no mistake, only school hours are a real opportunity to promote and engage in physical activity.
The solutions are within reach: first of all, ensure the three hours of PE in the program, but also create active breaks in class, return to natural physical activities, develop playgrounds (without being obsessed with problems of security), secure the extracurricular perimeter as we proposed in the walking plan (Le Monde, January 10, 2019), use existing sports facilities without being afraid of public-private pooling. Why not use that "private" climbing wall or gym that is underused at certain times? This pooling must avoid additional expenditure on infrastructure for the municipalities, but the State must take its financial responsibility because it is a social problem.
It is high time to act. Let us not allow children to develop, in no way responsible, a new health inequality entangled in the canvas of social inequalities.
The co-signatories of this forum are: Pascal Balducci, doctor in sports science, coach, trainer, editor; Denis Barreau, sports doctor, president of the SFMES (French society of medicine, exercise and sport); Vincent Berger, founder of monbilansportsanté, European champion and vice world champion in sailing; Guillaume Bronsard, child psychiatrist, president of the National Association of Youth Centers; Patrice Cozigoun, professor emeritus of medicine; Frédéric Depiesse, sports doctor; Alain Frey, sports doctor, president of the French Society for Sports Trauma (SFTS); Julien Fuchs, MCU, HDR, STAPS; Julien Girard, orthopedics, head of the university field of medicine and sport at the Lille 2 faculty: Virginie Govignon, SV-STU associate professor; Hervé Guégan, professional football coach, PSG (category: U 19); Gilles Kermarrec, PU, ​​psychology, STAPS; Franck Le Gall, sports doctor, doctor of the French football team; Véronique Lebar, sports doctor, president of the ethics and sport committee; Pierre Lecoq, dental surgeon, bronze medalist at the Rio 2016 Olympic Games; Gwénaelle Madouas, sports doctor, French cycling team doctor; Corentin Martins, professional football coach (Mauritania), former international footballer; Faustine Merret, STAPS teacher, Olympic champion, Athens 2004; Stéphanie Nguyen, pediatrician, sports doctor INSEP; Claire Pontais, associate professor of PE, former trainer at the Higher Institute of Teaching and Education (Inspe) in Caen, national manager at SNEP-FSU; Pascal Redou, MCU, HDR – applied mathematics, trainer (professional cyclist); Romain Rousseau, orthopedic surgeon, former president of the French Society for Sports Trauma (SFTS); Alain Saraux, PU, ​​PH, PhD rheumatology.
.