AIDS: the prescription of a protective treatment made easier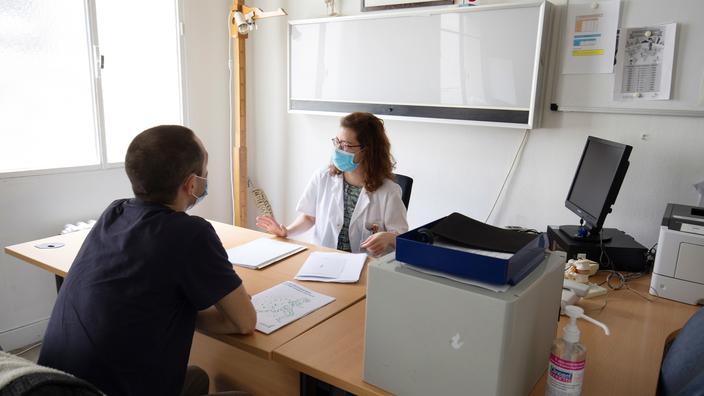 City doctors will soon be able to initiate the prescription of HIV pre-exposure prophylaxis (PrEP). A breakthrough that should make this prevention tool better known.
The High Authority for Health (HAS) recommended on April 28 an expansion of the first prescriptions of PrEP (pre-exposure prophylaxis) in city medicine. The Minister of Health, Olivier Véran, made a commitment to it during the world day against HIV-AIDS, last December. Recognized for its effectiveness in the fight against HIV contamination, PrEP consists of the preventive use of antiretroviral drugs by HIV-negative people who are exposed to the virus and have not used a condom. It has been covered by health insurance since 2016.
Read also :Sidaction: Emmanuel Macron calls not to let AIDS "regain ground"
But until now only hospital services and Cegidds (free information, screening and diagnosis center) could initiate the prescription, thus making access difficult for many people. "For several years now, we have wanted this expansion of the primary prescription to city doctors", recalls Dr Pascal Pugliese, doctor in the infectious diseases department at the University Hospital of Nice and president of the French Society for the Fight against AIDS (SFLS). "The objective is twofold: to make this prevention tool better known to our colleagues working in the city and to expand and diversify the target populations. "
Reach more women
"PreP can thus be extended to populations other than men who have sex with men (MSM). These target populations are very varied, they can be heterosexual multi-partners, such as sex workers or people who are victims of sexual violence or whose partner refuses to wear a condom ", underlines Professor Gilles Pialoux, head of the infectious and tropical diseases department at Tenon hospital (Paris) and vice-president of the SFLS.
PrEP is based on a tenofovir disoproxil / emtricitabine combination historically known under the trade name Truvada but now available as a generic. "The initial cohort which made it possible to validate this treatment was composed of 98% of MSM, a population particularly vulnerable to HIV infections", recalls Pascal Pugliese. "Since then, PrEP has remained strongly associated with this population and is unfortunately not well known enough to heterosexual women and men. "
Two PrEP regimens currently exist. PrEP "on demand" involves taking two tablets before unsafe sex, then two more within 2 days. This modality is not possible for women, who must take the treatment continuously. "We found that the tissue concentrations of the drug are different depending on the sex", explains Dr Pugliese. "With continuous PrEP, women are protected from the 7thth day of taking. "
Train general practitioners
"Several general medicine theses have studied the issue of PrEP in general medicine and what emerged was a major training need. We have therefore set up an e-learning platform for our colleagues so that they have the necessary resources and not only on the medical and pharmacological aspects of PrEP. It is important that they also have elements of language adapted to more easily approach sexuality in general medicine consultation. ", specifies Gilles Pialoux.
The specialist hopes that many of his colleagues will seize this new possibility of prescription, which should be quickly validated by the National Medicines Safety Agency: "It would be a mistake for only practitioners in urban areas to feel concerned. In the South-West or the Center for example, people can be more than 150 km from a Cegidd, but these regions are not spared from contamination. "
Read also :A step towards an HIV vaccine
The Covid pandemic has caused a significant decline in the first prescriptions of PrEP which alarms specialists. " In our consultation, we went from 195 initiations of PrEP in 2019 to 75 last year, and this is representative of what we see in the national EPIPHARE study ", notes Professor Gilles Pialoux. If the confinement periods may have reduced risk-taking in 2020, specialists are concerned about this decline in prevention: "We fear a rebound effect in the coming weeks, especially with the relaxation of health restrictions, so it is important that doctors can start prescribing quickly", specifies Professor Pialoux.
France continues to face more than 6,000 HIV infections each year. "PrEP is to date the main lever to increase the overall level of protection against the sexual transmission of HIV", recently estimated France Lert, epidemiologist and president of Vers Paris Sans Sida. Since 2016, 32,000 people have had access to this prevention tool in France.
.