Alia Bhatt had a unique kalira in her hands, Ranbir's big diamond ring caught everyone's attention
Alia Bhatt kaleeras: Alia Bhatt became a bride in many films and each and every picture of her is in the hearts and minds of her fans. Everyone wanted to see how Alia Bhatt would look like a bride in real life and today it has happened. Alia Bhatt has made Ranbir Kapoor her companion. Both got married today on 14th April. After marriage, many beautiful pictures of Alia Bhatt came out, in which from her different kalire to big diamond ring, everyone's attention has been drawn.
Alia Bhatt shared several pictures of the beautiful occasion soon after her marriage to Ranbir Kapoor and also wrote a loving caption. Apart from Alia, Ranbir Kapoor's mother Neetu Kapoor, Karan Johar, Kareena Kapoor, Karisma Kapoor all shared many pictures of the bride and groom on their respective Instagrams. In these pictures, Alia Bhatt's Kalire and her diamond ring caught the attention of the fans.

In these wedding pictures, all eyes were on Alia Bhatt's unique kaleera tied in her hands. Stars, clouds and birds were visible in this bud of his. Apart from this, the big diamond ring seen in his hands also remained the center of attraction. Ranbir Kapoor has given this diamond ring to Alia as a gift.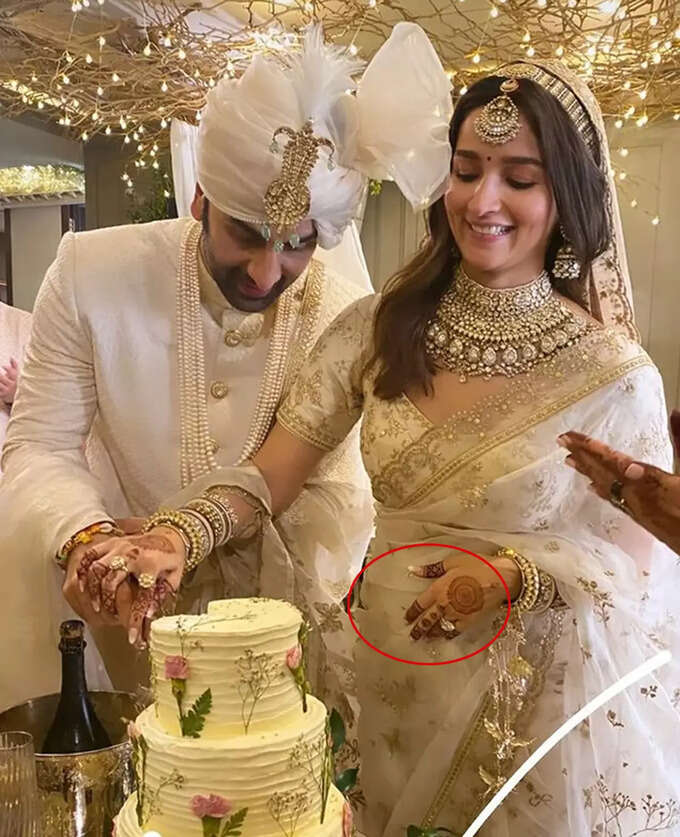 Fans are praising Alia Bhatt's bridal look very much on social media. Alia left her hair open on her wedding and was seen in very little makeup. How is Alia, her mother-in-law and sister-in-law Riddhima herself have praised it in front of the whole world. Neetu Kapoor had said that Alia is the best.

After marriage, Alia Bhatt and Ranbir Kapoor also came in front of the media where everyone gave them a warm welcome. When they started going back inside the house from there, Ranbir picked up Alia in her lap. The video of this occasion is going viral on social media.
,