Amarnath Yatra importance, interesting is the secret of this holy cave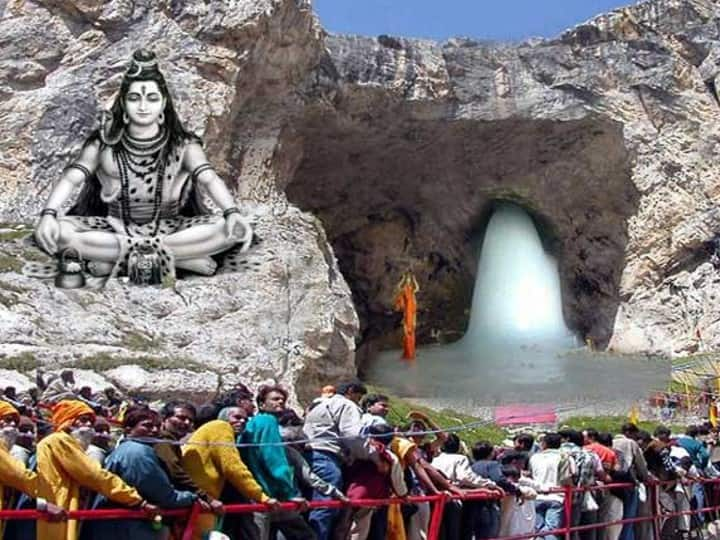 Amarnath yatra 2022: Amarnath Dham is situated amidst the inaccessible mountain ranges of the Himalayas. The pilgrimage of Baba Amarnath has a very important place in the well-known pilgrimages of Indian culture. It is believed that the devotee who sees the Shivling made in the cave with a true heart, gets freedom from the bondage of birth and death. Lord Shiva had told the secret of immortality to Mother Parvati in this cave, hence this cave is called Amarnath cave.
It is also called 'Baba Barfani' because of the formation of Shivling from snow. This year Amarnath Yatra is starting from 30th June which will end after 43 days on 11th August 2022 i.e. on Rakshabandhan. Let's know the history of Amarnath Dham and its shocking secrets.
Secrets of Amarnath Dham
It is the only Shivling in the world that grows and shrinks depending on the light of the moon. Every year the Shivling is completed here on the full moon day of Shravan Shukla Paksha and after that it reduces significantly in size till the next new moon.

Ice Shivling is formed naturally in this cave every year. The ice Shivalinga is formed by the dripping of water droplets from a crack in the ceiling of the cave. Due to the extreme cold, the water freezes and takes the shape of an ice Shivling.

Two small ice Shivlings are also formed on the left side of the ice Shivling. It is said that these are the symbols of Mother Parvati and Lord Ganesha.

Along with the wonderful Himling Darshan of Lord Shiva in Amarnath, the Shaktipeeth of Mother Sati is a rare coincidence. Out of 51 Shaktipeeths, Mahamaya Shaktipeeth is located in this cave. According to religious beliefs, the throat of Goddess Sati had fallen here.

It is believed that after listening to the immortal story of Shiva-Parvati, the pair of pigeons became immortal.
who discovered the cave
According to the belief, the Amarnath cave was first discovered by sage Bhrigu. In fact, once the Kashmir valley was submerged in water, Rishi Kashyap took out the water through rivers and streams. Then sage Bhrigu was searching for solitude for penance, when he saw the holy cave of Baba Amarnath.

There is also a belief that in 1850 a Muslim shepherd named Buta Malik had discovered the Amarnath cave.
Rudraksh Rule and Benefit: Those who wear Rudraksh must know these things, otherwise there will be loss instead of profit
Hanuman Ji Shani Dev: Why Shani Dev does not harass the devotees of Hanuman ji? Know 2 big reasons
,