Ardèche: the prefecture eases the obligation to wear a mask outdoors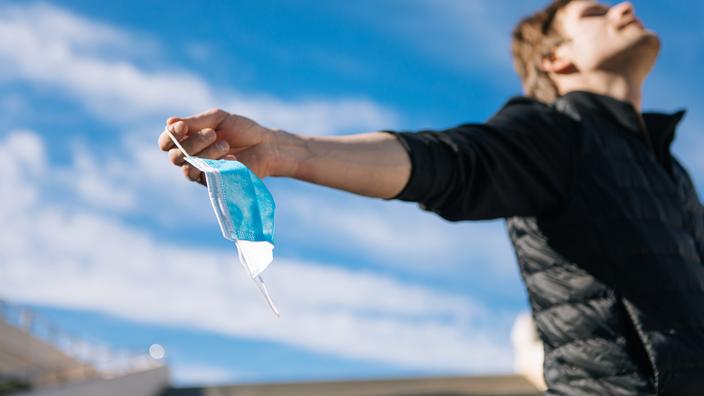 As of May 19, the mask will no longer be compulsory outside, except in very crowded places such as around schools.
While the Minister of Health, Olivier Véran, declared Monday, May 17 on BFMTV that France will arrive "soon"At a point where the mask will no longer be compulsory outdoors, the Ardèche prefecture has taken the lead. Thierry Devimeux, the prefect of the department, announced in a press release adapting the wearing of masks in certain public spaces.
Read also :Will you be able to remove your mask when you are vaccinated?
From May 19, a date that marks the reopening of non-essential shops and restaurant terraces, the mask will no longer be compulsory outdoors in Ardèche. A decision justified by the improvement of the health situation in this department where the incidence rate is 82.6 per 100,000 inhabitants and the positivity rate at 3.9%. "The logic is to reduce the perimeter concerned by the wearing of the compulsory mask due to the drop in epidemic indicators but to maintain this obligation in areas with high population density and which will be very busy as the summer period approaches.», Indicates the prefecture.
SEE ALSO – The obligation to wear a mask for vaccinated people is "absurd", judge Jean-Christophe Lagarde
Mandatory near educational and cultural establishments
The mask will therefore remain compulsory in outdoor spaces where "attendance is high and does not allow the respect of barrier gestures"Until June 29, the statement said. In city centers, meeting places or even markets, residents will have to continue to wear a mask. Likewise within a perimeter of 50 meters around educational, cultural and sports establishments, places of worship, shops and public transport stops. However, the prefecture recalls that "the measures may be reassessed depending on the epidemic situation and the application of barrier gestures."
Other departments have announced similar reliefs. In a decree dated May 11, Nicolas Basselier, the prefect of Charente-Maritime, relaxed the wearing of masks in some municipalities of the department. The prefect of Creuse, Viriginie Darpheuille, for her part announced on France Bleu Creuse the end of the obligation of the mask outdoors from May 20 for people traveling alone or with family and far from frequented places.
---
SEE ALSO – Americans vaccinated "happy" and "delighted" to say goodbye to the mask
.