Are snow and frost threatening crops again?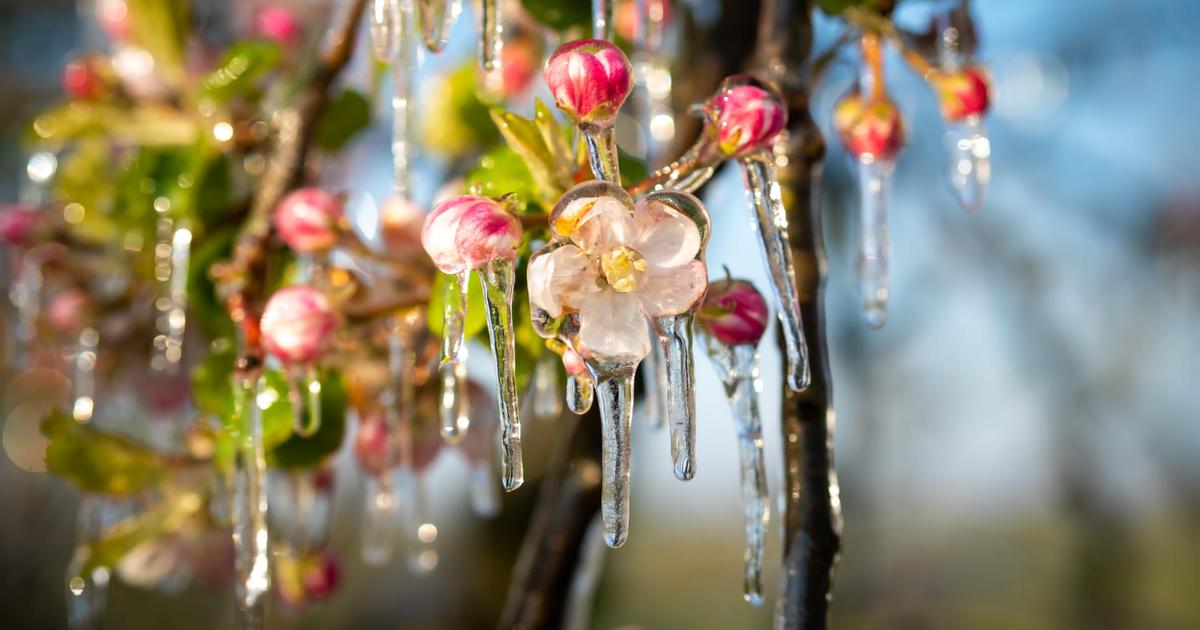 DECRYPTION – Exactly one year after the nights of ice that devastated hundreds of hectares, owners of vines and fruit trees are watching with concern the arrival of snow and freezing temperatures.
After a week of spring, winter is back in France. The first snowflakes came to whiten the plains and the cities on the morning of Friday April 1st. "It is indeed a winter offensive, analysis Pascal Scaviner, head of the forecast service for La Chaîne Météo*. We are going to live for a few days in January weather, with on average temperatures five degrees lower than those of the season. For the specialist,it will deteriorate until Monday", raising fears of severe frosts in the plains.
This frost phenomenon in early spring is "unusual but not exceptional". Already, in 1991, 2001, 2005, 2008, 2013, 2018 and 2019, a white coat had covered the ground during the first days of April. It is no less a source of anxiety for farmers. "With the frost, we can lose everything", testifies David Feuillette, owner of apple and pear trees in Bonny-sur-Loire (Loiret). Memories of whole nights watching over his fields with a multitude of candles still haunt farmers.
Spring 2022: towards an announced disaster?
A few hours before the first snowflakes, at the vineyard of Anne and Louis Moreau, in Chablis, in the Yonne, it is already time for preparations. Candles, antifreeze towers – small wind turbines that mix the different layers of air – heating plates…"Everything is already installed". The aim is to warm the air at the foot of the vine plants. Until Monday morning, the couple of winegrowers, at the head of 5,500 hectares, will watch the temperatures with a worried eye: "We have already suffered a lot last year with a significant loss of our crops, we cannot afford to start again this year.".
Can the winter episode of the weekend of April 1 be as devastating as that of 2021? "There are a lot of similarities, analyzes Marc Tardy, agrometeorologist for Météo France. First, we observe the arrival of a mass of cold air, coming from Scandinavia, after a spring episode. A situation equivalent to last year. Indeed, in one week, at the beginning of April 2021, the mercury went from more than 27°C to negative temperatures. Significant variations, expected at the start of spring 2022. On March 24, there were 19°C in Paris, 18°C ​​in Lille and 16°C in Limoges.
Second point in common, the duration of the frost episode seems to be the same. Last year, ice gripped the vineyards and orchards for two nights, from April 6 to 8. According to the weather forecast, the snowy episode should start Thursday March 31 in the evening and turn into frost until Monday April 4 in the morning. "The peak will be Monday morning, temperatures will reach -5°C in certain plains in central France», warns Pascal Scaviner. A few days during which the flowers and buds will freeze, plagued by winter temperatures.
Read alsoDo you have to clear snow in front of your house?
However, the two episodes are not exactly alike. There are still several differences that lead meteorologists to remain confident. Unlike last year, the 2022 winter episode is accompanied by snow and therefore cloudy skies. "Overcast skies may be enough to raise temperatures and protect crops", continues the agrometeorologist Marc Tardy. In addition, a wind, between 20 and 45 km / h is announced for this weekend, "which also tends to raise the temperature on the ground, preventing the cold air from stagnating.Finally, the cold wave would be less extensive than last year, when it had spared no region. The Southwest and the Rhône should escape it, according to forecasts. "The frosts will be less severe and less extensiveconcludes Pascal Scaviner from La Chaîne Météo. However, winegrowers and arboriculturists remain cautious.
SEE ALSO – Snow is falling in large flakes on Île-de-France and Hauts-de-France
Frost, the bane of farmers
"Frost has always been a concern for farmers, who necessarily depend on the weather, notes David Feuillette. But today it has become an anguish". Indeed, after a period of spring temperatures, the buds began to bloom, and the first flowers of the fruit trees opened. A budding which sees its progress immediately stifled by the sudden onset of cold and frost. This threatens crops and their yield next spring and summer.
"In one night you can lose 100% of your harvest, exhibits David Feuillette. In 1991, everything had frozen. It took 10 years to recover". The arborist fears that spoiled pickings for several years in a row will have disastrous financial consequences. "We have the capacity to suffer losses, it's normal, but not total and not every year."Last year, between 40 and 100% of crops of apples, pears, plums, cherries, not to mention grapes, were destroyed. Despite the love he has for his job, David Feuillette is worried: "At this rate, our cultures will be more and more in danger".
*The Weather Channel is a property of the Figaro group.
---
SEE ALSO – Weather: why does it snow in spring?
.