At Marseille airport, a fast and free screening center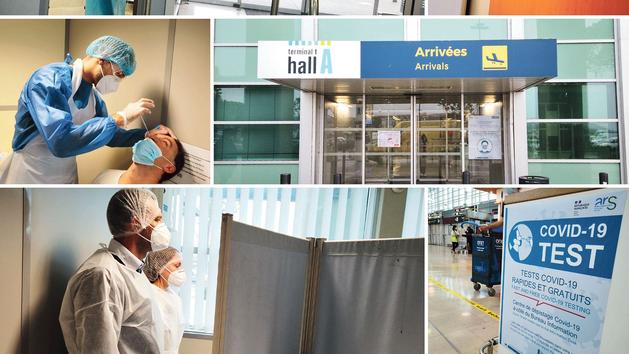 Since Monday morning, Marseille-Provence airport has offered passengers a free screening for Covid-19. "This is a simple nasopharyngeal sample allowing, using a platelet and a liquid, to detect the antigenic protein of the virus", recalls Véronique Vig, doctor at the regional health agency (ARS) present on site. If the sample is classic, with a swab in the nose, what is less is the response time: a quarter of an hour.
But against all odds, and while the number of positive cases explodes in France, there was no crowd for this national first. The stand was clearly visible, however, in hall 1, near the only open catering shops. With entire families who were patient in this area.
Sitting at a table, a book in hand, Rachel feels she is not concerned since she has no signs of the disease. In the conversation, she will let go that she does not know what would happen if she were declared positive because there is no question for her to cancel her trip. The answer also seems fuzzy for the few travelers who decide to take the plunge.
Denis Corsetti, the airport's director of operations, states without ambiguity: "A passenger who tests positive will not be able to board." This crucial precision does not prevent Marie from continuing the sequence, which began with a sheet to be completed including all her coordinates. "My father is a person at risk. If I'm positive, I cancel the vacation. No question of exposing it. "
Few people
In fact, the passengers most interested in the process are those who disembark in Marseille. Vivien is returning from Lisbon where he is studying: "I'm coming for a family vacation. If I am positive, I will make arrangements and go into isolation. "
For several officials of the ARS present at the airport, this in situ experiment makes it possible to analyze the brakes with the general public. Véronique Vig can only note the few people interested, despite the limited time and the total free. His colleague Laurent Peillard, head of the pharmacy department, does not see how we could force travelers to be tested on site: "Legally, it seems complicated to me to impose a test on a person, even if it comes under the principle of responsibility."
.