BathyBot, a robot installed at 2400 meters at the bottom of the Mediterranean Sea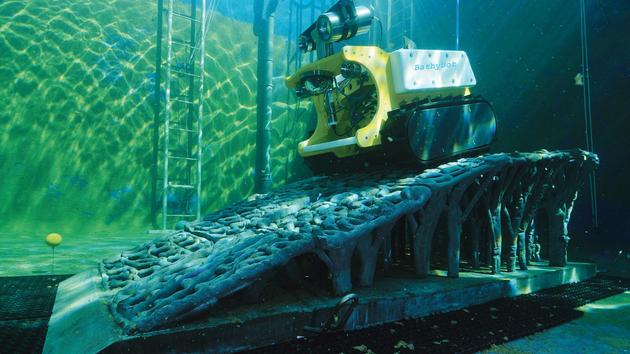 From January 31, an Ifremer ship and submarine will deploy an experiment to study the seabed which will notably observe the phenomenon of bioluminescence at a very great depth.
"We know the deep ocean less well than the Moon", recalls Christian Tamburini, CNRS researcher at the Mediterranean Institute of Oceanology. Observing the obscure and unknown world of the depths of the seas, such is the objective of the rover BathyBot, a crawler robot approximately one meter on a side, developed by a German consulting company, ISeaMC, but improved by the CNRS and tested by Ifremer in its test basin at La Seyne-sur-Mer, in the Var. The scientific mission must last at least two years, 2400 meters under the sea and 40 kilometers off Toulon.
Read alsoThe seabed, new theaters of war
From 180 meters deep, it is darkness, and below 1000 meters from the surface, it is complete darkness, even in broad daylight. Scientific knowledge of the deep sea is very fragmentary. With BathyBot, tremendous harvests of data are expected, in particular to study the bioluminescence of deep-sea organisms that radiate "when there is an atmospheric forcing, caused by a strong blow…
.