Bigg Boss punished the nominated members, sit for so many minutes, make yourself safe or become homeless
In Bigg Boss 15, a task took place on the last day. By the name BB Gift Shop, which was canceled by the family members. After this, reprimanding everyone, Bigg Boss told that there will be one more task, which no one will be able to cancel even if they want. Now the day has come and the task too. However, not all members will do this. Only those will be involved in this task, who are currently nominated to be homeless, like Karan Kundra, Umar Riaz, Tejaswi Prakash, Abhijit Bichukale and Rashmi. Desai (Rashmi Desai).
What is Task?
Bigg Boss has given time to the family members. They have to sit in a box for 28 minutes. However, such a task has been done in the previous season as well. It happened in season 7, when Kushal Tandon even threw garbage on him for lifting Tanisha Mukherjee, after which there was a lot of fighting. This task was also done in season 13 and 14. So. Once again this task is happening. In this compartment, the family members have to sit alternately for 28 minutes. The rest have to distract that member. You have to apply your intelligence to get up early. According to Bigg Boss, if there is more or less than the given time, then that member will be directly homeless from the house.

According to the released promo, the housemates adopted many tricks to lift the members sitting inside the box. Abhijeet Bichukale, who observes a fast for three-four days a week. Pure vegetarian. Eat fruits and milk etc. While Nishant pours egg paste on them to lift them, Karan Kundrra is also seen threatening to destroy any of their boxes, which are kept very well by Bichukle. However, while sitting in the box, he shouts, 'Don't do this, that is my livelihood.'
Devoleena also pours a bucket full of water on a nominated contestant. So Prateek Sehjpal is seen poking with a stick to torture Karan Kundra. Seeing this, Umar gets furious. They say, 'Have a little patience.' Now who sat for 28 minutes and who took an ax on his own leg by counting the wrong count. Today will be clear in the upcoming episode.
BB15: First Tejashwi Prakash and now Umar Riaz had a fight with Karan Kundra, Rashmi Desai became the reason

BB15: Rakhi Sawant spoke to Karan Kundra – Marry Tejashwi Prakash, got this answer

BB15: Karan Kundra and Tejashwi Prakash argued on the second day of the proposal, Rashmi Desai became the reason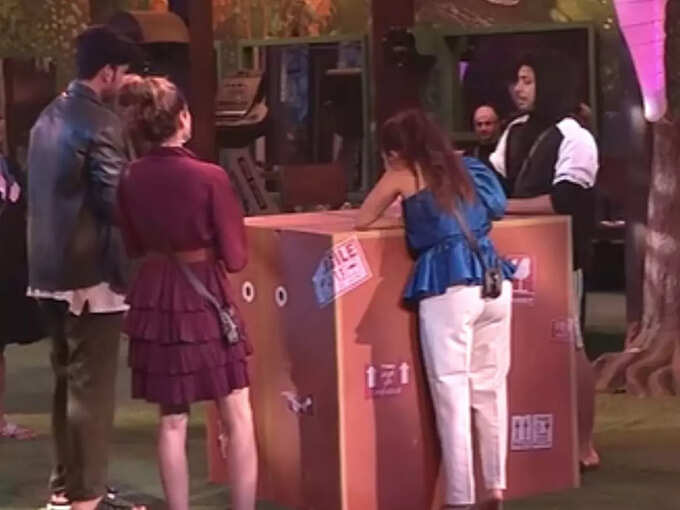 ,