By adopting these measures, you can also get Soft and Smooth hands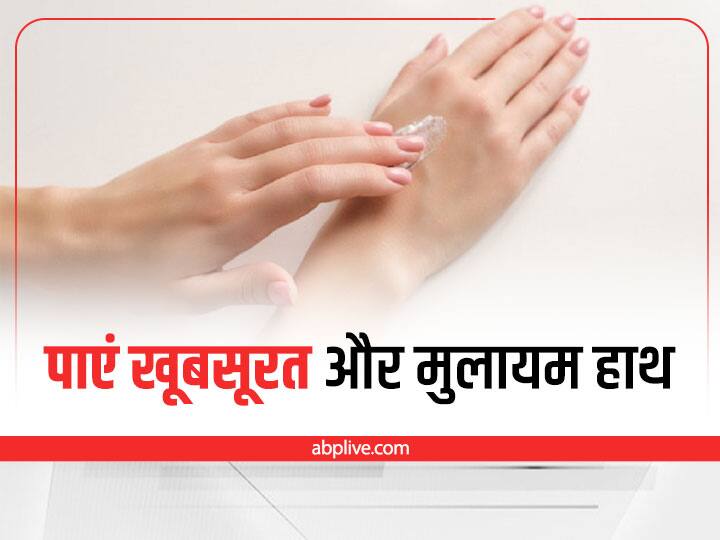 Soft and Smooth Hands: To maintain the beauty of the face, women use things like UV sunscreen, hydrating creams, wrinkle reducing serum etc. But if we talk about the hand, she does not pay much attention to it and completely ignores it, due to which the hands start looking dry and lifeless. If you also do this, then we are telling you some such ways through which you can get back the lost beauty of your hands.
1. Aging Spots
Aging spots have nothing to do with age. These spots are caused by spending more time in the sun. It is common for people who move around a lot in the sun to have these spots, but these spots are more common in people over the age of 50. For this, you should always wear gloves and whenever you go out, apply a cream with SPF 30 on your hands and apply the cream again even after washing your hands once. Keep in mind that the cream has to be used again after every 2-2 hours. Apart from this, apply OTC cream containing 2% hydroquinone to cure them. Before using this cream, follow all the instructions properly, otherwise it may have the opposite effect. You may need a 3% cream for dark black spots but do consult a doctor before applying it.
2. Wrinkles
If the skin on the back of your hands is very wrinkled, then you can apply a retinoid cream on it, which will make the skin smooth and the amount of thinking collagen will also increase.
3.hard nervous
If you want to get rid of these veins then you have to invest your time and money in Venus Remover. In this, the veins on the top surface of your skin are removed. After this, cream has to be applied every time after washing hands.
4. Dull and Dry Skin
Lifeless and dry skin can never look young and healthy. To make it smooth and supple as before, remove dry and lifeless skin with a gentle scrub before sleeping. After that make a mixture of cream containing glycerin and plant oil. Apply it on your hands before sleeping. After that cover with a plastic sheet and wear gloves.
5. Dirty Nails
If your nails are yellow and you also feel pain, then you may have a fungal infection. In this case you should see your doctor immediately. If there is no fungal infection then you do not need to fear as it may have happened only because of applying some dark colored nail paint. For this, rub a slice of lemon on the nails and immerse them in a denture cleaner for 15-20 minutes. Clean it after a while. Make sure you choose your favorite next time nail paint Make sure to apply a base coat before applying.
6. Soft Nails
Water or chemical exposure, weather changes, and genetics can affect your nails Can be very weak and can even break repeatedly. One way to fix this is by taking a 2.5 mg vitamin B supplement. After 6 to 9 months you will start feeling the difference.
7. Old Manicure
Nowadays, the fashion of nails color and their shape keeps changing every day. You can make your hands very beautiful by following them. Now the fashion of short nails has come again. You can also keep your nails 1/4 long. Apart from this, if you want, you can apply any dark color nail paint, this will attract all the attention of your nails and no one's attention will go towards wrinkles and spots. You can use colored nail paints like red and purple. Try to minimize the use of colors like neon, yellow or green.
Read this: – Skin Care: If you want to get glowing skin in 7 days, then follow these measures
Skin Care Tips: Know how different these 3 beauty products are from each other and what is special about it
,