Childhood immunization in decline around the world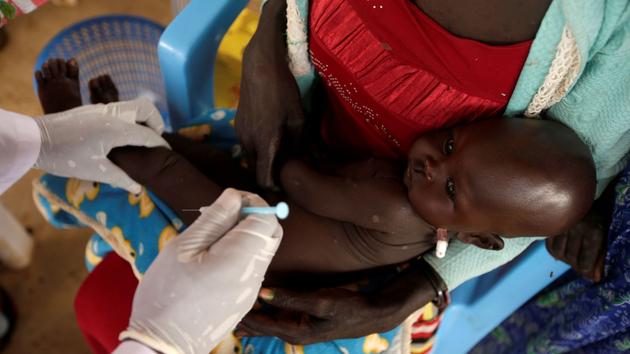 This decline, which is part of a context of growing mistrust of the populations, has been aggravated by the pandemic.
As the world embarks on a vaccination race to end the Covid-19 pandemic, the UN worries about the risk of "disaster" health related to the delay in immunizing children against other diseases. Last year, in fact, 23 million of them did not receive basic vaccines against diphtheria or tetanus in particular, according to figures released last week by WHO and Unicef. Unheard of since 2009. Thus, last year, 3.5 million fewer children received their first dose of vaccine against diphtheria, tetanus and pertussis (DTP-1) compared to the previous year. year before, and 3 million less for measles. Up to 17 million children probably did not receive any vaccines during the year 2020.
Read also :Why children who are too fat at 3 years old are likely to remain so
"Even as countries rush to get their hands on Covid-19 vaccines, we have backed down on other vaccinations, leaving children exposed to devastating but preventable diseases like measles, polio or meningitis ", declared the Director-General of WHO, Tedros Adhanom Ghebreyesus, who recalled the urgent "To invest in childhood immunization". Children living in conflict zones, in remote or very poor places, are the most affected. But, faced with this threat, "the whole world is concerned, more particularly South-East Asia – in particular India, Pakistan, Indonesia – and certain countries of America, like Mexico and Brazil ", explains Azhar Abid Raza, vaccination specialist at Unicef.
"Lack of communication"
This worrying record reflects the upheavals that the health services around the world have undergone with the health crisis. "The pandemic has resulted in movement restrictions with repeated lockdowns and the closure of many health centers around the world, recalls the Dr Azhar Abid Raza. Most could not function 100% anyway. All of this has kept children away from immunization. And, in the first three months of 2020, almost all vaccination campaigns were brought to a complete halt globally. "
Read also :"In the name of our children, let's save pediatricians"
However, the pandemic is not the only one responsible for this decline, believes Henrietta Fore, Director General of Unicef: "Even before the pandemic there were worrying signs that we were starting to lose ground in the fight to immunize children against preventable childhood diseases, especially with the large measles epidemics of two years ago.", she explains in a press release. In 2019, this disease, characterized by the rash of red spots on the skin and which can sometimes lead to serious complications (respiratory and neurological), had killed more than 6,000 in the Democratic Republic of the Congo. It had also affected tens of thousands of people in the United States – especially in New York – and in Europe.
Read also :Breastfeeding saves lives and saves money
This decline in vaccination is therefore not solely attributable to the current pandemic. "The biggest problem is the lack of communication combined with fake news, including in developed countries, where people seem increasingly reluctant to go for the vaccine., notes Azhar Abid Raza. This is particularly the case even in the United States, where communities have refused measles vaccination. In developing countries, in addition to funding issues, healthcare systems still need to be improved to support and carry out these vaccination campaigns. These must be more targeted this year to pick up children who did not receive their doses last year. We have to catch up. " Global vaccination rates for children against diphtheria, tetanus, pertussis, measles and polio have in fact stagnated for several years at around 86%, well below the 95% recommended by the WHO.
.