Children's mental health: child psychiatry in suffering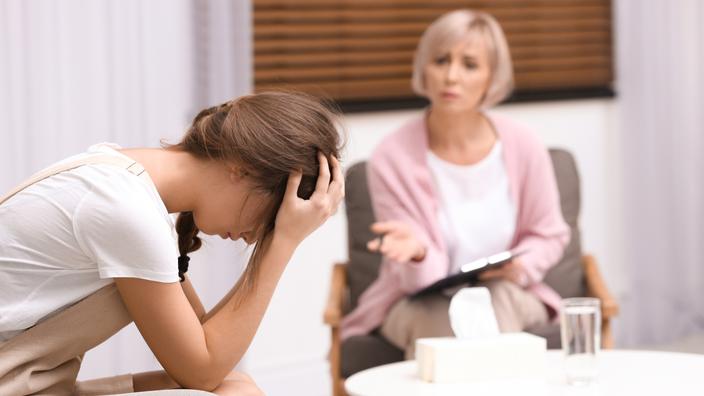 DECRYPTION – Shortage of child psychiatrists, lack of beds and reception facilities … The Defender of Rights is sounding the alarm on a cruel lack of resources.
Child psychiatry is sorely lacking in material and human resources, warns Claire Hédon, the Defender of Rights, in a report published on the occasion of the International Day of the Rights of the Child this Saturday, November 20. With, as a result, an increased risk of suicidal gestures. It counts "25 departments"Not covered by this branch of psychiatry or endowed with"outpatient services only". Faced with a global deterioration in the mental health of young people in France, Claire Hédon affirms that psychiatric care for minors must become a "public priority".
Read also"Mr. President, child psychiatry is grateful to you but remains worried"
The statistics seem to prove him right. In twenty years, the number of children and adolescents followed each year in child and juvenile psychiatry has increased by more than 60%. In fifteen years hospitalizations have doubled, and in thirteen years outpatient care has increased by 33%. The health crisis has only worsened this trend. According to the figures in the report provided by Claire Hédon, during the year 2020, upset by the Covid-19, 468,000 children under 16 years of age were taken care of on an outpatient basis (for a period of less than 12 hours, editor's note ) and 45,000 were hospitalized.
A lack of care structures
Within child psychiatry, hospitalization capacities are very limited for those under 18 years of age. On the territory, 2,328 beds were dedicated to minors in 2018 for full-time hospitalizations against more than 52,000 beds for adults, according to a report from Drees. Child psychiatrist Clémentine Rappaport, in Seine-Saint-Denis, is faced with this structural problem: "At the Ballanger hospital (Aulnay-Sous-Bois), there are only eight places in child psychiatry, for full-time hospitalizations, while 500,000 children and adolescents live in the department."
According to the Defender of Rights, France has between 800 and 2,500 child psychiatrists out of 15,000 psychiatrists. Only 15 to 30% provide consultations for children and adolescents. "The demographic collapse of the profession is obvious», Adds Claire Hédon, in her report. An understaffing already indicated by a Senate report in 2017. For 100,000 young people under 20, the average density of child psychiatrists was only 15.1, with great territorial inequality.
Read also"Anxiety disorders progress in those under 15"
"Today it is a health disaster", Points out Christophe Libert, president of the Association of psychiatrists of the infanto-juvenile sector, who has been practicing for 21 years. The hospital deficiencies are such that psychiatric care is mainly provided on an outpatient basis (90%), in medico-psychological centers (CMP). However, these establishments have been saturated since the health crisis. According to the child psychiatrist Marie-Claude Bossière, the waiting period to obtain an appointment with a child psychiatrist has lengthened "from six months to a year".
Strong territorial inequalities
At the Reims University Hospital, the 12 beds in the child psychiatry department of Professor Anne-Catherine Rolland are insufficient to cover the entire Marne. "In permanent hospital tension, we are forced to send psychiatric patients to pediatrics, which is totally inappropriate and dangerous when a minor is in a state of extreme agitation.», Explains the department head. "To make matters worse, Reims, there is only one liberal child psychiatristShe adds. But medical desertification is sometimes much worse in some areas, notes the Defender of Rights report: "In town, more than ten departments have no liberal child psychiatrist."
We are going straight into the wall if the public authorities do not invest massively in our sector

Christophe Schmitt, Jury child psychiatrist
At the Jury hospital center, near Metz, Christophe Schmitt, child psychiatrist, also faces extreme difficulties with his team. "For a population of 400,000 inhabitants, we have only seven hospital beds for minors in child psychiatry. We are going straight into the wall if the public authorities do not invest massively in our sector», Comments the doctor. Even more "dramatic"According to him, some departments have no hospital service in child psychiatry, such as Côtes-d'Armor and Mayenne. "If we leave young people without help, without support, we cannot avoid suicidal gesturesHe warns.
Read alsoWorrisome increase in suicide attempts among young people
The child psychiatry sector is "disaster for years», Proclaims the child psychiatrist Bruno Falissard. So that some adolescents are hospitalized in units initially reserved for adults, places that can present dangers for them, notes the Defender of Rights. It indicates that it has been seized on several occasions for cases of minors admitted to such services and having suffered sexual assault. In particular the case of a 13-year-old teenage girl, victim of sexual assault in July 2017 by an adult patient. This is why Claire Hédon recommends, among other suggestions, to the Keeper of the Seals and the Minister of Solidarity to include in the law the prohibition of receiving minors in psychiatric units for adults.
.