Climate: five years after COP21, where is the Paris agreement?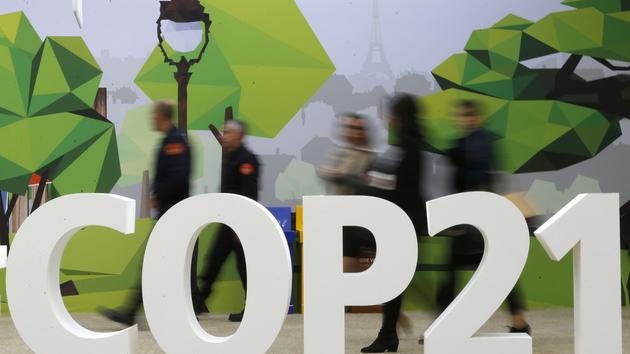 DECRYPTION – An international virtual summit is taking place this Saturday, December 12 to try to revive global climate ambitions.
On December 12, 2015, Laurent Fabius sealed with a historic hammer blow in Paris an ambitious pact to reduce greenhouse gas emissions concluded by 195 countries gathered for COP21. Objective: contain global warming "Clearly" below + 2 ° C by 2100 (and if possible at + 1.5 ° C) compared to the pre-industrial era. Five years later, what conclusions can we draw from it? For the UN Secretary General, Antonio Guterres, it's very simple : "Climate policies are still not up to the challenge". The UN estimates that global emissions should be reduced by 7.6% per year between 2020 and 2030 to meet the target of + 1.5 ° C. However, the current forecasts rather expect an increase of 2% per year over this period. In other words, the world is heading much more surely towards an increase of 3 ° C …
Read also :'We are hope': the surprisingly positive video message from Greta Thunberg
This observation should have been widely debated during the COP26 which was to be held in Glasgow last month. Health crisis requires, the appointment has been postponed to autumn 2021. In the meantime, a virtual summit is organized this Saturday by the UN, the United Kingdom and France, in the hope of giving new life to climate ambition. The opportunity, also, to identify the good news, because there is some. Last September, China, the world's largest emitter, surprised by committing to carbon neutrality by 2060. The following month, Japan and South Korea followed suit, setting the target for 2050; this Saturday, around thirty countries should make announcements around this long-term objective, according to the Élysée. The Twenty-Seven, for their part, managed to agree on Friday on a reduction in emissions of"At least 55%" by 2030 compared to 1990 level, compared to 40% currently.
The election of Joe Biden as President of the United States also signals the next return of the second largest emitter of greenhouse gases (GHGs) in the Paris agreement. For Sébastien Treyer, Director General of the Institute for Sustainable Development and International Relations (Iddri), these signals should not be underestimated: "The Paris agreement initiated a completely different global conversation (…) We went from discussions on marginal ambitions in terms of reducing GHGs to a race for carbon neutrality".
Commitments, few acts
The climate emergency, however, has not abated. If the forced shutdown of economic activities caused a drop in emissions of around 7% this year, this slowdown did not prevent the increase in the concentration of CO2 in the atmosphere, which reached a new record in 2019. The year that is ending, with its share of hurricanes, heatwaves and mega-fires, is shaping up to be one of the three hottest ever recorded, according to the UN. The + 1.5 ° C threshold of the Paris agreement could even be crossed as early as 2024.
Countries must become more actively involved in the fight, warns the UN. Under Article 4 of the agreement, each party is expected to communicate their emission reduction targets, known as Nationally Determined Contributions (NDCs), which they must update – and if possible to upgrade – every five years. Nothing legally obliges them to do so, but these milestones are important because the race for carbon neutrality does not mean much if everyone does not concretely indicate how they intend to do in the short term to achieve it. Theoretically, countries have until December 31, 2020 to send their revised CDNs to the UN … which, so far, has only received about 20. Announcements could still be made this Saturday. Others have been delayed because of the Covid and are expected in the first quarter of 2021.
Climate advocates worry over massive support from various post-Covid fossil fuel stimulus packages
But there are commitments and actions. And here again, we are far from the mark. According to a recent report by the German NGO Germanwatch, none of the 58 countries it has scrutinized seems able to meet its objectives. France is no exception: it exceeded by 2.7% the ceiling for net GHG emissions it had set for 2019, according to the Climate-Energy Observatory. Climate advocates are worried about the massive support provided by the various post-Covid stimulus plans for fossil fuels. The international Energy Policy Tracker project observes that the G20 countries have announced at least 234 billion dollars in public funding for fossil fuels, against 151 billion for "clean" energies.
Finally, the Paris agreement defined overall objectives of cooperation and mutual aid which are far from being achieved. Developed countries in particular pledged to mobilize $ 100 billion per year by 2020 to help developing countries cope with climate change. Gold "There is a lack of mobilization", explains David Levaï, associate researcher at IDDRI, for whom these questions of "Finances will make the success or failure of COP26".
.