COP26: Glasgow, epicenter of global climate mobilization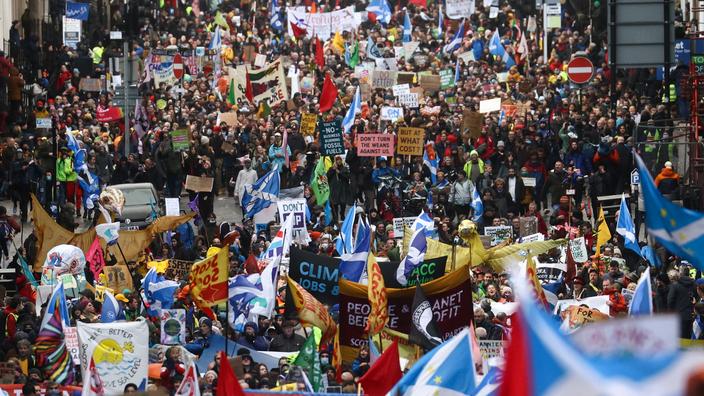 REPORTING – Tens of thousands of people demonstrated this Saturday in the Scottish city, where the COP26 takes place until November 12.
Special Envoy to Glasgow
" What do we want? Climate Justice! When do we want it? Now! (What do we want? Climate justice! When do we want it? Now!). Despite the pouring rain, they were thousands gathered late Saturday morning at Kelvingrove Park in Glasgow, the epicenter of a global climate mobilization.
Families, NGOs, political parties, anti-capitalists, feminists, Scottish separatists … The long procession set off at the very beginning of the afternoon a few hundred meters from the "Blue zone», The ultra-secure center where COP26, the most important climate conference since COP21, which took place in Paris in 2015, is currently taking place until November 12.
Read alsoCOP26: in Glasgow, a week divided between organizational hiccups and announcement effects
Grace, a young student from Glasgow, wanted to be present with her friends: "We are here to fight for our future. The leaders are at COP26 and they are only protecting their own interests, not ours. In this first week of the conference, a lot of words, but this is not the first time, we need action! I am not sure that this COP will change much, but I still want to be hopeful because today it is still more and more difficult to ignore the problem."
To see also – COP26: "It's no secret that it's a failure", laments Greta Thunberg
Peter came from London on purpose for COP26. This professional actor proudly carries the flag of the NGO Extinction Rebellion: "I am here for my children, my grandchildren and for all who will come next. My message is that of Extinction Rebellion: the world must do everything to achieve carbon neutrality by 2025, in order to prevent global warming from getting out of control. Waiting for half of the century (as envisioned by a large part of the countries which have embarked on this path, editor's note), it will simply be too late!"
"Greenwashing festival"
The organizers claimed in a statement an attendance of more than 100,000 people. The police did not give a figure, but had said before the start of the demonstration to expect at least 50,000. The day before, thousands of young people had come to cry out about the climate emergency under the banner of Fridays for Future, led by their muse, the Swedish Greta Thunberg. "It's no secret that COP26 is a failureShe said, calling the conference "celebration (…) of blah blah" and of "greenwashing festival".
Read alsoCOP26: CO2 emissions are on the rise again
Boots and raincoat required, Erin, a retired translator, came from Edinburgh with her family just for Saturday's protest. "I think this climate conference start was partially successful, but there were also disappointments with people who did not come.", Including Chinese President Xi Jinping, whose country alone is responsible for a quarter of global greenhouse gas emissions. Erin would not necessarily have "imagined demonstrating for the climate fifteen years ago". But her children made her evolve on the subject, as well as the impacts of climate change all over the world that she hears more and more about. "It's never too late to evolve". For her, being there today is essential: "We must give our support to this fight against global warming; it's good that politicians get together to talk about it, but I think we also have to show that we believe deeply in these subjects and in their importance."
To see also – In Paris, demonstrators gathered to call for action on climate change
.