Covid-19: 222 dead in French hospitals, 5,231 patients in intensive care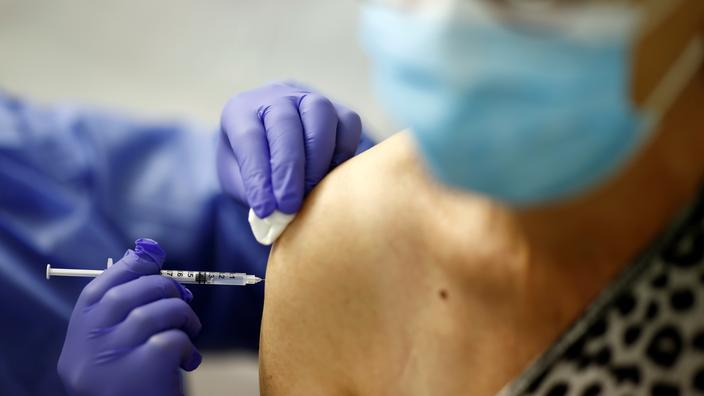 New measures, new reports and highlights: Le Figaro takes stock of the latest developments in the Covid-19 pandemic around the world.
While the pandemic has claimed more than 3.2 million victims worldwide, indicators in France show a favorable trend, at a time when the country has begun the first stage of deconfinement. On the vaccination side, scientists continue to study the effectiveness of different vaccines. Thus in Israel, the largest study ever carried out in real life attests that Pfizer would protect 95% of the virus.
Read also :Covid-19: will we be able to do without the mask and barrier gestures this summer?
5,231 people in intensive care, favorable indicators in France
The number of patients in intensive care continues to decline in France. 5,231 people with Covid-19 were admitted to intensive care on Thursday, against 5,402 the day before. 273 patients have been admitted in the last 24 hours.
In total, French hospitals counted 26,985 patients suffering from Covid-19 this Thursday, including 1,151 admitted in the last 24 hours. 222 people have also died in hospital since the day before, bringing the toll to 79,583 hospital deaths since the start of the pandemic.
Two weeks before the next stage of deconfinement, the epidemic situation is therefore improving in France, but hospitals remain overloaded and health experts are still worried about a premature reopening. Since the middle of last week, between 20,000 and 30,000 positive cases have been recorded daily (more than 26,000 Wednesday).
Read also :Covid-19: why the epidemic has finally started to decline
600,000 injections in 24 hours in France, a record
On the vaccination front, Olivier Véran announced a record this Thursday. "A new bar crossed today, with more than 600,000 vaccinations carried out (it is about 600,000 doses, editor's note) in 24 hours in France. Once again, thank you to those who day after day protect our fellow citizens. We continue!", the Minister of Health tweeted.
In addition, France has decided to speed up its vaccination schedule. Everyone over 50 can be vaccinated from May 10, instead of May 15, and the doses available at the end of the day will be open to everyone the next day. "No age limit", French President Emmanuel Macron announced Thursday, in order to accelerate the vaccine campaign against Covid-19. Vaccination is also open to minors aged 16 and 17 suffering from certain diseases which cause them to run a "Very high risk of severe form".
Read also :Vaccination open to all from May 12 when there are still doses available, announces Emmanuel Macron
SEE ALSO – Open vaccination without age limit from May 12 when there are still doses available
Towards a lifting of patents on vaccines?
The United States announced Wednesday that it was in favor of the lifting of patents on anti-Covid vaccines, an exceptional position taken at a time when poor countries are sorely lacking in precious doses, the only weapons against the continuing pandemic. its devastation, especially in India.
The EU said on Thursday that it is "Ready to discuss" a lifting of patents on anti-Covid vaccines, a subject which will be invited to the summit of the 27 in Porto on Friday, but was skeptical about the effectiveness of such a measure to accelerate global vaccination. "The protection of intellectual property is the source of innovation and must continue to be so in the future", a spokeswoman for the German government told AFP, reacting to the announcement by the United States. France, she said "Quite favorable" just like Vladimir Putin.
Read also :United States: towards an authorization of vaccination for adolescents
The CEO of US pharmaceutical giant Pfizer, Albert Bourla, however, said on Thursday that he was not "not at all" in favor of the United States' decision to support the temporary suspension of patents.
SEE ALSO – EU "ready to discuss" lifting of vaccine patents according to Ursula von der Leyen
India: nearly 4,000 deaths in 24 hours, a new record
India recorded a new record of contaminations on Thursday, following several days of decline in the number of cases which had raised hopes that this catastrophic upsurge could subside. Nearly 4,000 deaths due to Covid-19 have been recorded by the Indian authorities, and 412,000 new contaminations in 24 hours.
Read also :India: vaccination slows as Covid-19 epidemic accelerates
These figures, which some experts consider largely undervalued, bring to 230,168 deaths and 21.1 million infections recorded in total in India since the start of the pandemic. The Central Bank of India stepped up to the plate on Wednesday by announcing $ 6.7 billion in cheap loans to the health sector.
While the Indian government refuses to order generalized containment, several regions, including the capital New Delhi as well as the states of Bihar and Maharashtra, have confined themselves. Prime Minister Pinarayi Vijayan announced Thursday a week of confinement in the state of Kerala (southwest) where strong increases in contamination are reported, as in West Bengal (east) and in the southern state of Karnataka.
Sweden exceeds one million cases
Sweden surpassed the symbolic mark of one million detected cases of Covid-19 on Thursday while the country, which has pursued a less strict strategy against the virus, is currently in second place for new contaminations in Europe.
With 1,002,121 cases of coronavirus recorded since the start of the pandemic, the Scandinavian country is approaching 10% of the population having contracted the virus (9.85%), according to official data compiled by AFP. A level already crossed in Europe by a handful of countries: Montenegro, Czech Republic, Slovenia and Luxembourg, according to this database.
Pfizer over 95% effective, study finds
The Pfizer / BioNTech vaccine is over 95% effective against the virus, but the level of effectiveness drops sharply when a person receives only one of the two doses, according to a study in Israel, the largest ever conducted in real life.
Published in the medical journal The Lancet, its authors – scientists from Pfizer and the Israeli government – note that in Israel, a world champion country for vaccination, the latter "was the main driver of the decline in infections".
Read also :Covid-19: Pfizer tests a tablet deemed very promising
Germany wants to vaccinate all adolescents from 12 years old by the end of August
Germany will be able to offer vaccination against Covid-19 to all adolescents over 12 years of age by the end of August, subject to the green light from the European Medicines Agency (EMA) for this age group, Health Minister Jens Spahn said on Thursday.
Read also :Covid-19: Germany plans access to vaccines for all adults from June
The government and the regions have agreed to "That a vaccine offer can be made to every 12-18 year olds by the end of August", declared the minister who expects an authorization of the Pfizer / BioNTech vaccine by the EMA for 12-15 year olds in June.
Tokyo Olympics: Pfizer and BioNTech will give vaccines to athletes
The Pfizer and BioNTech laboratories announced Thursday that they had entered into a memorandum of understanding with the International Olympic Committee (IOC) to provide vaccines for athletes and delegations from all countries participating in the Tokyo Olympics next summer.
Read also :Olympic Games – To facilitate the Tokyo Games, Pfizer and BioNTech will give vaccines to athletes
The European Union opens its borders to the Israelis
The European Union has added Israel to the list of third countries whose travelers can be admitted to its territory whether or not they are vaccinated against Covid. Revised regularly, this list has been limited since January to six countries: Australia, New Zealand, Rwanda, Singapore, South Korea and Thailand. China is also included, on condition that it allows travelers from the EU, which is not currently the case.
New stage of deconfinement in Denmark
In Denmark where the epidemiological situation is under control, cinemas, theaters, and fitness centers reopen their doors on Thursday, on presentation of a "coronapas", health passport certifying a negative test of less than 72 hours, a vaccination or a recent recovery from Covid-19.
Read also :Covid-19: Denmark renounces Johnson & Johnson vaccine
Egypt strengthens measures for end of Ramadan
Egypt has announced a strengthening of its measures to fight against the coronavirus as the Muslim holiday of Eid-El-Fitr approaches, which will mark next week the end of the fasting month of Ramadan. The most populous Arab country, with some 101 million inhabitants, has decided to close its cafes, malls and restaurants at 9 p.m. from Thursday until May 21.
More than 3.2 million dead
The pandemic has killed at least 3,244,598 people around the world since the end of December 2019, according to a report established by AFP from official sources Thursday at 10:00 GMT. The United States is the country with the most deaths (579,280), ahead of Brazil (414,399), India (230,168), Mexico (218,007) and the United Kingdom (127,570).
.