Covid-19: all you need to know about the Johnson & Johnson vaccine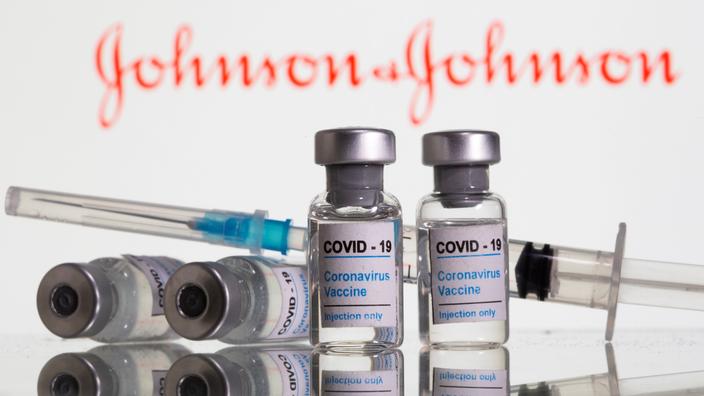 FOCUS – This vaccine should be the fourth authorized in France. Scheduled to date to only work with a single dose, it should be validated by the European Union in early March.
And four, a priori. After that of Pfizer-BioNTech, that of Moderna, that of AstraZeneca, here is that the vaccine against the Covid-19 of Johnson & Johnson should be authorized in early March by the European Union and begin to be injected in France from the end of the month or early April. Efficacy, number of doses, production, side effects, target audience, etc., find all the information about this new vaccine.
When?
The green light from the European Union will be granted "at the beginning of March since the European Medicines Agency is reviewing all the information that Johnson & Johnson has communicated to it in order to be able to market this vaccine», Said Agnès Pannier-Runacher, Minister for Industry, on the France 3 television channel.
Read also :Does the European Medicines Agency independently assess vaccines?
The first doses should "arrive at the end of March – beginning of April since there is a deadline for the production of doses", that is "still in discussion with the laboratory», She added.
Who already uses it?
The United States on Saturday granted an emergency authorization to the Johnson & Johnson vaccine for people aged 18 and over. In addition, South Africa, faced with a variant of Covid-19 from its territory, is also already using it.
Read also :Anti-Covid vaccines: Moderna launches an assault on the South African variant
One dose only?
This is currently planned: in this regard, it is the only single-dose vaccine against Covid-19, which of course facilitates its injection. This notable advantage is, however, still uncertain. "This is very good news because this vaccine requires a single dose, however it is possible that it requires boosters, we do not yet know.", Warned Agnès Pannier-Runacher.
Read also :Covid-19: "The duration of protection of vaccines is a major unknown"
"The question that arises is, if we only give one dose, what will be the duration of protection. We want people to be protected, but we want them still to be in six months", Explained more precisely Alain Fischer, the president of the orientation council of the vaccine strategy, on BFMTV on February 15th. To date, the effectiveness of the Johnson & Johnson vaccine is at least three months with a single dose. Beyond that, we don't know. A clinical study is underway including a second dose.
How many doses for France?
The European Union has ordered 200 million doses of the vaccine from Johnson & Johnson, with an option for an additional 200 million doses, which would bring the total to 400 million. However, by June, European countries will only receive 100 million doses. As these are distributed among member states in proportion to their population, this means that France will receive 15 million doses (in theory enough to vaccinate 22% of the French population) by the end of June. By way of comparison, France has so far received around 8 million doses of vaccine (but which vaccines require two doses for one person).
Read also :Vaccines in Europe: Ursula von der Leyen in the storm
In addition, the 200 million doses of Johnson & Johnson ordered by the EU (excluding the additional option envisaged) should be compared with the 500 million doses of Pfizer, the 310 million of Moderna and the 300 million of AstraZeneca (keeping remember that, for the moment, only one dose is planned, which doubles the number of people who can potentially be vaccinated). Agnès Pannier-Runacher clarified that France would "produce Johnson & JohnsonAs well as Pfizer, Moderna and Curevac (a fifth vaccine expected to be marketed in the European Union).
What efficiency?
There are several possible measures of the effectiveness of a vaccine, depending on the effect sought. Against all symptomatic forms of Covid-19 (serious or not), Johnson & Johnson's vaccine would be 66% effective according to documents from the pharmaceutical group sent to drug agencies. This is the worst result compared to 95% of Pfizer, 94% of Moderna or 70% of AstraZeneca. However, the most important is not so much the effectiveness against all symptomatic forms of Covid-19, but that against severe forms of the disease. For once, this efficiency reached 85%, which is a figure already closer to those recorded by the most efficient vaccines (Pfizer, Moderna and the Russian Sputnik-V). There remains the question of the duration of protection, which is the subject of studies to determine whether a second dose is necessary (see above).
Read also :Will Covid-19 variants make re-infections more frequent?
And will it be effective against variants? A priori yes. Its efficacy in South Africa – the country of origin of the 501.V2 variant for which there is most doubt in terms of (potential) resistance to vaccines – is estimated to be 81.7%. It is certainly a little less than in most other countries (85% on average), but it remains excellent.
Who will it be for?
Overall, the efficacy of the Johnson & Johnson vaccine is "similar»For all population categories. There is therefore no indication that this vaccine could be reserved for a part of the population, as is the case in Europe for the AstraZeneca vaccine, not because the latter would be less effective for the elderly, but because there is a lack of data. definitive on this.
Read also :Covid-19: should you get the AstraZeneca vaccine injected?
How does it work ?
This is a "viral vector", Like that of AstraZeneca. Or "adenovirus vaccine". It uses another weakly virulent virus as a carrier, transformed to add genetic instructions from part of the Sars-CoV-2 virus responsible for Covid-19. This is particularly the case with the Spike protein which is in a way the key that allows Sars-CoV-2 to enter our cells. The vaccine thus educates the immune system to recognize this protein.
.