Covid-19: are people in intensive care "essentially unvaccinated"?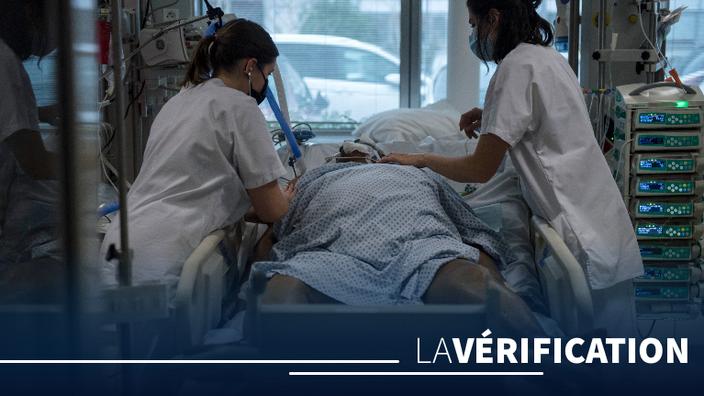 THE CHEKING PROCESS – "Those who oppose the vaccine" are over-represented in hospitals and "[gâchent] the lives of our caregivers, "blasted Gabriel Attal on Wednesday. Is right ?
THE QUESTION. Emmanuel Macron does not mince his words anymore. A year after the start of the vaccination campaign, the President of the Republic defended his policy in an interview with Parisian . The opportunity, also, to deal a few blows to the "antivax". Asked by a reader of the daily on the overrepresentation of unvaccinated people in intensive care – "all these people, who are not vaccinated, are those who occupy 85% of the resuscitations", She protests – the Head of State confirms wanting to put pressure on these individuals.
Read alsoCovid-19: will the Omicron wave be the last?
"You cannot place caregivers"Faced with the refusal to take care of unvaccinated people admitted to critical care, nuance however Emmanuel Macron, adding that this idea of ​​sorting according to vaccination status is"a red line". "The very fact that we ask the question of refusal of care for unvaccinated people is a strange virus. And that is the immense moral fault of antivax», He concludes.
The over-representation of unvaccinated individuals in critical care is regularly highlighted by the government. "When I go to the field […], in critical care services, what the President of the Republic said, I hear it everywhere", Proclaimed Jean Castex in the Senate, Wednesday, pointing"a form of exasperation of our fellow citizens»To see people constantly refusing vaccination. "Who is wasting the lives of our caregivers, who, for two years, have been mobilized, underwater, in our intensive care units, to save patients who, today, are essentially unvaccinated? These are the ones who oppose the vaccine", Hammered the spokesman of the government, Gabriel Attal that same day.
Is this overall finding correct? In critical care services, do we find "essentially»Unvaccinated people?
.