Covid-19: AstraZeneca vaccine will be accessible to people over 65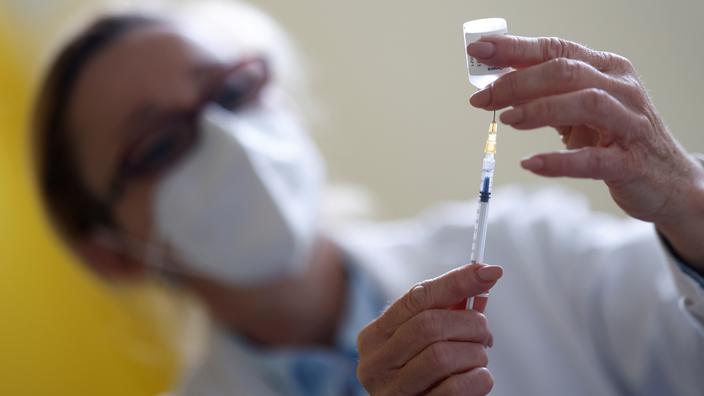 The Haute Autorité de santé considers that the efficacy data are now sufficient.
This is news that should make it possible to streamline the vaccination of the elderly against Covid-19: the High Authority for Health, in an opinion made public this Tuesday morning, believes that "the place in the vaccine strategy of the AstraZeneca vaccine can be now extended to people over 65 ".
SEE ALSO – AstraZeneca vaccine authorized for over 65s, announces Olivier Véran
Read also :AstraZeneca vaccine would be very effective in older people
Until now, vaccination with AstraZeneca AZD1222 has been reserved for people under 65 years of age, due to a lack of sufficient efficacy data on the elderly. Being more at risk of developing severe forms, we could not afford to offer them a vaccine that we did not know if it would be effective in them, while the RNA vaccines from Pfizer and Moderna had shown a very effective in limiting the risk of hospitalization and death. But a study in Scotland, submitted for publication to BMJ but not yet peer reviewed, has changed the situation: it shows, this time on a very high number of elderly patients, a comparable efficacy between the AstraZeneca vaccine and that of Pfizer. Released yesterday, new data collected in England give equally encouraging results.
It is therefore a hole in the racket of the vaccination campaign that will be able to be filled. For the moment, within the general population (excluding healthcare professionals) 50-64 year olds with comorbidities could have access to the AstraZeneca product; those in good health could hope to slip into it if, for example, a doctor did not have enough candidates in his patient population to fully use a vial of 10 doses of vaccine (the rule being: we throw away as little as possible). Those over 75, regardless of their state of health, could claim to receive the vaccines from Pfizer and Moderna. But except to enter the reduced list of comorbidities that gave them access to the Pfizer vaccine, 65-74 year olds were in a middle ground: neither young enough for AstraZeneca, nor old enough for RNA vaccines.
Read also :Covid-19: who can be vaccinated, where, by whom and with what product?
Invited Monday evening on France 2, the Minister of Health, however, clarified that, in what is supposed to be a first step, the AstraZeneca vaccine will be available in town offices, in vaccination centers and, soon, at the pharmacist, only 50-74 year olds at risk of comorbidity, over 75s needing to be vaccinated with an RNA vaccine at a vaccination center. In view of the many difficulties observed in making an appointment, the news could make some teeth cringe …
ALSO LISTEN – AstraZeneca vaccine: "If the South African variant grows, the question of its use will arise"
Space out the doses
Another novelty recommended by the HAS: to space the two doses of vaccine, at 6 weeks for RNA vaccines, in order to "vaccinate as many people as possible from March by postponing the administration of the second dose". The Scottish data also allow us to favor a spacing of the two doses of 12 weeks for AstraZeneca. The High Authority also recommends "giving preference" to RNA vaccines "when locally, the incidence of variants that present a strong risk of immune and vaccine escape justifies it".
.