Covid-19: compulsory vaccination of caregivers is getting closer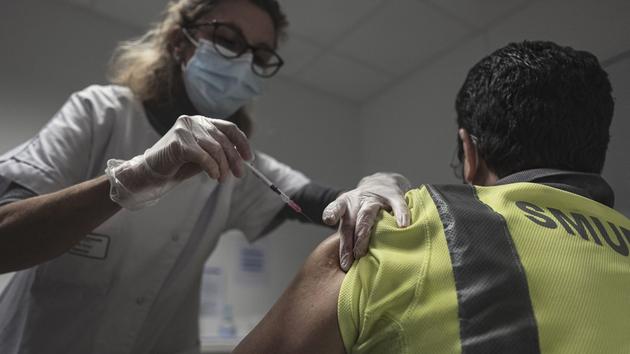 DECRYPTION – A consensus is being established in order to oblige all those who are in contact with the sick and the vulnerable to be vaccinated.
These are two curves whose opposite evolution heralds a complicated summer for the government: on the one hand, the proportion of the Delta variant among new cases of Covid-19 continues to increase, now close to 20%, and on the other hand, the proportion of first vaccine injections plummeted from 75% to 25% in just one month. To avoid a new wave at the start of the school year because of this more contagious variant from India, the executive knows that there is only one solution: to increase the number of French people vaccinated as quickly as possible, in order to approach collective immunity.
Read also :"We are put back to the wall": the last reluctant caregivers are worried about the vaccination obligation
Sunday in the JDD, a hundred doctors have asked the government to make vaccination compulsory for caregivers and staff in nursing homes"Before the beginning of September". Among the signatures are personalities made famous by the Covid crisis, such as infectious diseases specialists Karine Lacombe and Gilles Pialoux, but also the former president of the Academy of Pharmacy François Chast and the former director of Public Health France François Bourdillon.
Professor Alain Fischer, "Mr. Vaccine "from the government, also spoke out for this obligation, believing that caregivers were too numerous to be unprotected. The debate has rebounded in recent days with vaccination rates which are very insufficient: 57% in nursing homes, 64% in hospitals according to the Hospital Federation of France (FHF).
Other levers considered
The Minister of Health, Olivier Véran, is now in favor, promising on Tuesday that if the target of 80% of vaccinated caregivers was not reached in September, the Covid vaccine would be added to the other obligations already in place for these personnel (hepatitis B, tetanus, polio). Three days later, he vowed to step up, with a law that could be considered by Parliament "From the month of July".
Read also :The government prepares the minds for the compulsory vaccination of caregivers
To prepare the ground, the Prime Minister, Jean Castex, must address the issue on Monday, during meetings with the leaders of Parliament and local elected officials. If other levers are being considered by the government to relaunch the vaccination campaign, there does not seem to be any question of imposing it on the entire population.
On Sunday, during the "Grand Jury RTL-Le Figaro-LCI", François Bayrou spoke out in favor of an obligation for all French people, citing his fear "That one day a mutation will make the virus extremely harmful to children". "To guard against mutations, we have to slow the spread of the virus and we can only stop the spread by vaccination", said the boss of the Modem and High Commissioner for Planning.
.