Covid-19: faced with the influx, the DGS recommends prioritizing access to screening tests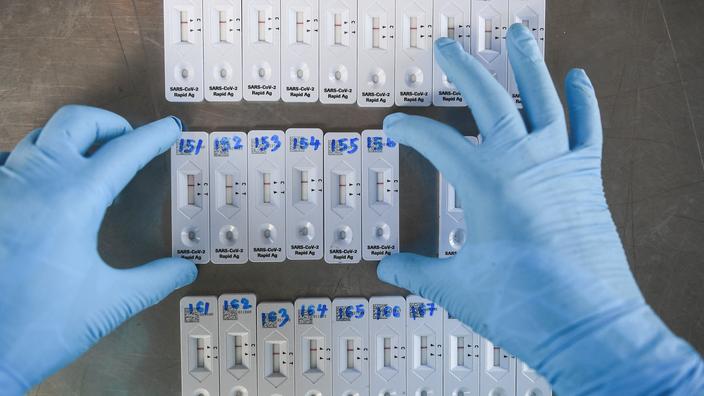 "It is appropriate that people considered to have priority to benefit from a diagnostic test be taken care of quickly," said the Directorate General of Health Friday.
With more than eight million Covid tests performed between Christmas and New Years, a new record has been broken. To unclog pharmacies taken by storm, the Directorate General of Health (DGS) recommended Friday evening to prioritize "access to tests", As reported by BFMTV. "People considered to have priority for a diagnostic test should be taken care of quickly".
Read alsoYou have just learned that you are positive for Covid-19, what to do?
The "symptomatic cases","risky contact cases","people with medical prescriptions" and the "people with a positive self-test"Should be able to be tested as a priority, according to the DGS, as well as"people for whom a test is compulsory as part of the application of border rules" and "people who need a test to travel abroad". "The other situations must be considered as non-priority, in particular the performance of 'comfort' tests aimed at obtaining proof in the health past", adds the DGS.
SEE ALSO – Isolation: what changes from January 3 for vaccinated and non-vaccinated
Read alsoCovid-19: should we stop testing?
The DGS recommends referring asymptomatic people to self-tests. It also changed the rules for French people who tested positive for Covid-19: confirmation of a positive antigen test by a PCR test is no longer an obligation. Whether positive or negative, an antigen test is now sufficient to decide whether or not to isolate, without the need to do a PCR test immediately. On the other hand, a positive self-test must be confirmed, either by an antigen test or by a PCR test.
.