Covid-19: first vaccinations this Sunday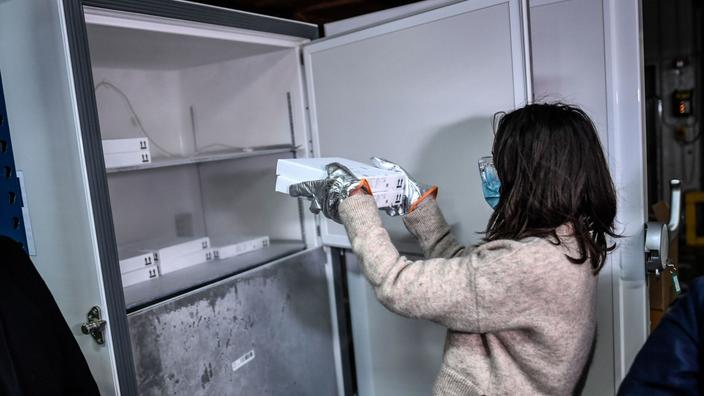 Two hospitals, in Sevran and Dijon, host the first French coronavirus vaccination sessions. The national campaign starts tomorrow.
Kick-off of vaccinations against Covid-19 in France, this Sunday, December 27. The first doses of the vaccine against Covid-19 developed by the American Pfizer and the German BioNTech were sent to the Paris region on Saturday. Some 19,500 doses of the vaccine contained in 3,900 vials, according to the APHP, were transported in a refrigerated truck that made the trip from the Pfizer plant in Puurs, in northeastern Belgium.
Read also :Covid-19: will vaccines allow us to return to our life before?
The first establishments to benefit from these doses are the René-Muret hospital in Sevran, in Seine-Saint-Denis, and the Champmaillot geriatric center of the Dijon CHU, in Côte-d'Or. Contacted on Saturday by Le Figaro, the two establishments did not wish to communicate but assured that everything was "in place" for the first vaccinations.
The arrival in the EU of the Pfizer-BioNTech vaccine was validated on Monday by the European Medicines Agency. The French green light was then issued Thursday by the High Authority for Health (HAS). The launch of this vaccination campaign is eagerly awaited while a first case of contamination by the Covid-19 variant which appeared in the United Kingdom was detected in France on Friday, in Tours, in a Frenchman usually residing in the United Kingdom.
Objective: fifteen million vaccinations by this summer
The national vaccination campaign will begin the next day, Monday, December 28, like several other European countries. "It will be a gradual start", explained the Minister of Health, Olivier Véran, last Monday on Europe 1. "Twenty-three establishments" of the regions of Paris, Lyon, Lille and the Tours sector should start to vaccinate next week, said the minister's office of Health, Olivier Véran, during a press briefing.
The 7,000 nursing homes in France, their residents and their caregivers likely to develop severe forms of Covid are the government's priority at the end of the year and for the start of 2021. Vaccination will be stepped up to reach around one hundred establishments for people elderly in the first two weeks of January, then become "Massive" from mid-January. It should reach, by the end of February, one million vaccinated among people over the age of 75 and health professionals over 65 and / or at risk of developing serious forms of the disease. Everyone over 65 will follow until spring, then the rest of the population aged 16 and over.
The government has set itself the goal of "15 million vaccinations by this summer", Matignon said, a deadline slightly later than what he had announced.
According to a survey by Public Health France, only 53% of French people questioned in November want to be vaccinated. A sharp drop (-11 points) compared to the previous survey, conducted last July.
.