Covid-19: for vaccination, caregivers no longer have a choice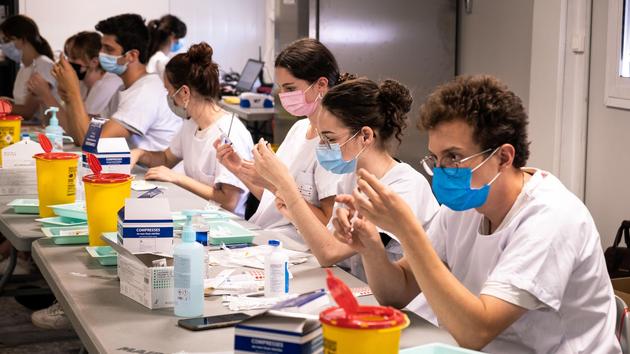 After September 15, unvaccinated personnel will be placed in an "equivalent of unpaid leave", specified Olivier Véran, Minister of Health.
The threat had been hovering over their heads for a month, but this time, the vaccination obligation is well and truly recorded for health professionals. It was one of the flagship announcements of Emmanuel Macron's speech on Monday evening: from September 15, vaccination against Covid-19 will be due for "Nursing and non-nursing staff in hospitals, clinics, retirement homes, establishments for people with disabilities, for all professionals or volunteers who work in contact with the elderly or frail, including at home, medical and paramedical professions ".
Read also :Covid-19: are vaccines still in the experimentation phase?
If this decision did not fail to trigger a flood of comments on social networks, it comes to concretize the requests made for weeks, even months, by most of the ordinal councils, doctors and nurses in mind, but also by the 'Academy of Medicine and several federations of professionals involved in personal care.
This article is for subscribers only. You have 68% left to discover.
Pushing back the limits of science is also freedom.
Continue reading your article for € 1 for 2 months
Already subscribed? Log in
.