Covid-19 in children: symptoms, isolation, tests, masks …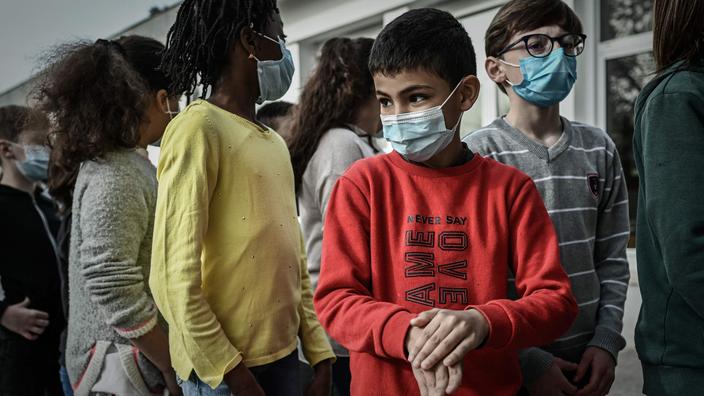 Even if children remain less affected by the coronavirus, cases are now increasing at school. Many questions then arise as to what to do in the event of contamination.
Are cases of Covid-19 common in children?
Often asymptomatic or developing mild forms of the disease, children are less affected than adults by the Covid-19 epidemic. In August 2020, a European study estimated that the proportion of patients under 18 was less than 5%. According to the latest epidemiological data from Public Health France for the week of March 15 to 21, "the incidence rate (per 100,000 inhabitants) of confirmed cases was 230 in 0-14 year olds against 426 in 15-44 year olds". This rate is increasing for all age groups but the most significant increase is observed among 0-14 year olds (+ 31%). The positivity rate is slightly lower (-0.5). On the other hand, the suspicion of an English variant is high (75 to 77%) in those under 20 years old.
In the hospital, children represent less than 1% of Covid patients. As of March 23, 68 children under 15 were hospitalized, including 7 in intensive care. Since the start of the pandemic, 5 children have died in France from Covid-19. According to a recent study, children produce more antibodies to Covid-19, which would protect them from severe forms of the disease. On the other hand, they would be just as contaminated as adults.
Are children more contagious?
The debate, the corollary of the opening or closing of schools, rages among experts and is still not settled. And the presence of the more contagious English variant worries. Children at the start of the epidemic were seen as important vectors of the disease as they are for other seasonal viruses. Studies then challenged this hypothesis claiming that the youngest have about 50% less risk of catching Sars-CoV-2 and therefore of infecting those around them.
Read also :Covid-19 measures: hardening expected at school
What could be true for the little ones is not true for the older ones who would transmit the virus in the same proportions as adults. According to the ComCor study conducted by the Institut Pasteur updated on March 1, 2021, "having a child in school represents an increased risk of infection for adults, especially those looked after by a childminder (+ 39%), and those who go to college (+ 27%) and high school (+ 29%). With one exception, however: having a child in primary school has not so far been associated with an increased risk of infection for adults living in the same household. However, since January, there has been an increase in intra-domiciliary infections in adults due to children under 11 years old."
Read also :Covid-19: what the science says about the contamination of children
SEE ALSO – Jean-Michel Blanquer: "We will close each class from the first case of contamination"
What are the symptoms of Covid-19 in children?
In the majority of cases children are asymptomatic or have mild symptoms similar to those of adults: cough, fever, headache, abdominal pain. In younger children, loss of taste (ageusia) and smell (anosmia) is very rarely observed. If a child has symptoms suggestive of Covid-19, they should not go to nursery or their school. He can return there after seven days or if the parents certify in writing that they have consulted a doctor and that a test has not been prescribed.
Read also :Covid-19, flu, common cold: what are the differences, what symptoms?
Should we be concerned about cases of syndromes similar to Kawasaki disease?
Covid-19 in children is suspected of causing attacks similar to Kawasaki disease called pediatric multisystem inflammatory syndromes (or PIMS). Last spring, these cases caused a wave of concern. Appearing 4 to 5 weeks after infection, the inflammatory syndrome manifests itself by gastrointestinal disorders, fever, skin rashes and finally damage to the cardiovascular system (tachycardia, myocarditis).
According to the report of Public Health France of February 25, 396 cases have been reported in France since the 1er March 2020 and three-quarters of the cases were or had tested positive for Covid-19. A stay in intensive care was necessary for 179 children and in critical care unit for 94 of them. A 9-year-old child has died. These multisystem inflammatory syndromes remain rare. In France, the incidence of PIMS linked to COVID-19 has been estimated at 23.3 cases per million inhabitants in the under-18 population.
If my child is positive for Covid, do I have to isolate myself?
For a child positive for Sars-Cov-2, the isolation time is the same as for an adult. It is ten days after the positive test or the onset of symptoms. If symptoms persist, it is necessary to remain isolated for two more days. For parents of a sick or positive child, things get tough. Obviously, it is impossible to completely isolate a toddler within the family. People living in the household should take an initial test to verify that they are not positive. Then, they must remain isolated seven more days after the ten days of isolation of the patient and repeat a test on D17. If it is negative, the isolation is terminated.
Read also :Test, isolation: the procedure to follow in the event of a suspicion of Covid-19
Parents of a sick or positive child must therefore be absent or resort to teleworking for a minimum of 17 days. On the other hand, for older children, it all depends on the accommodation. If the adolescent can benefit from strict confinement (closed room, eating alone in the room, with if possible a bathroom reserved for him or cleaned after use) then the members of the household must remain isolated for 7 days. after the last contact then perform a test. If it is negative, the quarantine ends.
What if my child is in contact?
If a child is declared a contact case, he must be withdrawn from the nursery, school, college or high school. He must then comply with the rules established for contact cases: isolation for 7 days after the last contact. If he is in school or nursery, he can then return to his establishment without having a test if he does not show symptoms. A college or high school student must ensure a negative test. For everyone, isolation is prolonged if the child is in contact with a member of his family who cannot benefit from strict confinement. It is then 17 days.
Should children do a nasopharyngeal PCR test or a saliva test?
The nasopharyngeal PCR test is unpleasant for everyone and painful for a toddler. It must remain exceptional for children under 6 years old and only be carried out if the child is in contact with a proven patient, if the symptoms persist for more than three days or if they worsen or if the child lives with fragile people. It is not possible to opt for a saliva test, reserved for massive screening operations in schools. Deployed since February 22, these tests, deemed 85% reliable, should allow children to go to class safely while avoiding the nasal swab. Parents' consent is however essential. They should be extended in the coming months to colleges, high schools and universities.
Read also :Covid-19: Has France Delayed Too Long In Authorizing Saliva Tests?
Will the children be vaccinated?
Those under 18 are not affected by the vaccination campaign against Covid-19 in France. But with the appearance of variants, the cases which are multiplying at school, the question is now under debate within the scientific community. As children develop very little of the severe form of the disease, the benefit / risk balance which prevails with any vaccination does not favor vaccination of the youngest. However, exceptions are foreseen. A very small number of children with particular comorbidities are already eligible for vaccination.
Read also :Covid-19: should children be vaccinated?
But another parameter comes into play. Beyond their protection, the vaccination of children could be part of the collective immunity strategy pursued by States. The United States and the United Kingdom are already considering it and the laboratories are working on it. The American biotech company Moderna announced on March 16 that it had started trials of its Covid-19 vaccine on thousands of children aged 6 months to 11 years. But Pfizer, Johnson & Johnson as well as AstraZeneca are not left out and have also launched studies.
SEE ALSO – Covid-19: should schools be closed?
Is the mask compulsory for children?
For a long time children were exempt from it. But at the start of September, the mask was made compulsory at school for those over 11, the age lowered to 6 in November. Be careful in other enclosed public spaces, the street, transport, the minimum age is 11 years old. Since February, schools have required a category 1 mask.
Is wearing a mask dangerous for children?
While many parents were not reluctant to impose it on their children, or even to anticipate legal obligations, others are worried about the effects of wearing a mask on children: breathing difficulties, learning disabilities, psychological disorders. Regarding the health effects, experts deny any risk. No more than for adults, the mask can not cause respiratory problems in children. According to the National Institute for Health and Medical Research (Inserm) "these protections are developed in such a way as to allow oxygen to pass through the body. The risk of CO2 poisoning is by no means proven". The main risk is that the child wears the mask incorrectly, touches it, compromising its effectiveness.
Read also :Covid-19: is wearing a mask dangerous for children?
Attention is also focused on the impact of wearing a mask by adults working with children, in particular on learning to read. Teachers still lack perspective but want to be reassuring. Gestures and mime make up for the impossibility of observing the movements of the mouth. For the little ones, especially in nurseries, experts fear a delay in the acquisition of language and sociability. A concern that the psychiatrist Antoine Guedeney questioned by Le Figaro put March 8 into perspective: "Children, extraordinarily adaptable, are experts in interaction. They also decode tone, hand gestures and body language. The important thing is to stay in touch with them, not to put them aside during this stressful time."
Read also :Is the adult mask a brake on children's development?
.