Covid-19: INSERM is considering a 4th wave this summer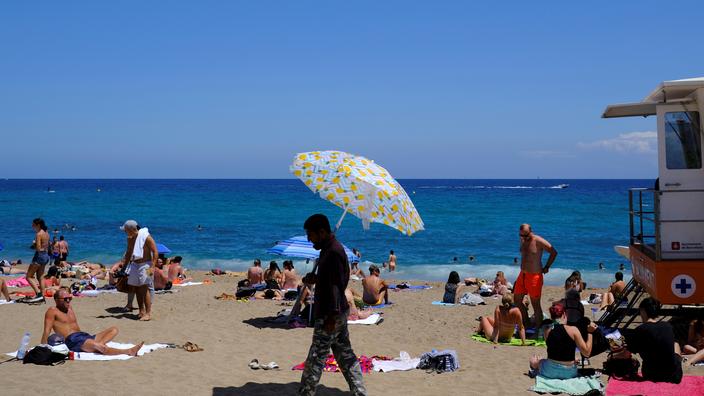 Four epidemic scenarios are considered depending on the number of people vaccinated during the summer.
A rapid resurgence of Covid-19 contaminations, leading to an increase in hospitalizations this summer? This is one of the scenarios considered by INSERM (National Institute of Health and Medical Research), which published a new report on Tuesday July 13 in which four projections are envisaged.
These scenarios vary depending on the vaccination rate. In the first screening, vaccination is suspended during the summer. The second is based on the current trend, where the number of people vaccinated is falling from week to week. The third envisages a constant number of doses for each age group throughout the summer, and the last – the most optimistic – sees them constantly increasing during the summer season.
SEE ALSO – How the Delta variant can ruin our summer and cause a fourth wave
Peak reached at the end of summer
The epidemiological scenarios also depend on the level of contagiousness of the virus, and its circulation. If, as estimated, the Delta variant turns out to be 60% more contagious than the Alpha variant, with a reproduction rate of 1.3 similar to last summer, the situation would remain under control with an average of 2,000 hospital admissions per week.
On the other hand, if the circulation of the virus increases and if the reproduction rate rises to 1.5, the peak of the third wave could be reached at the end of the summer: with a pessimistic vaccine scenario, it would reach more than 14,000 hospitalizations. per week. An acceleration of the vaccination campaign could, however, limit the damage. If the number of doses administered were to accelerate, the number of hospitalizations would continue to peak at 2,000 per day.
Epidemiologist Vittoria Colizza, invited Thursday on BFMTV, said that the departments of the south and southwest of France are the most exposed to this fourth wave. "Immunity is already quite weak in these departments. There is also a significant presence of foci of the Delta variant. And, finally, we have an increase in the population expected during the summerShe explained.
.