Covid-19: is it dangerous to be vaccinated while being asymptomatic?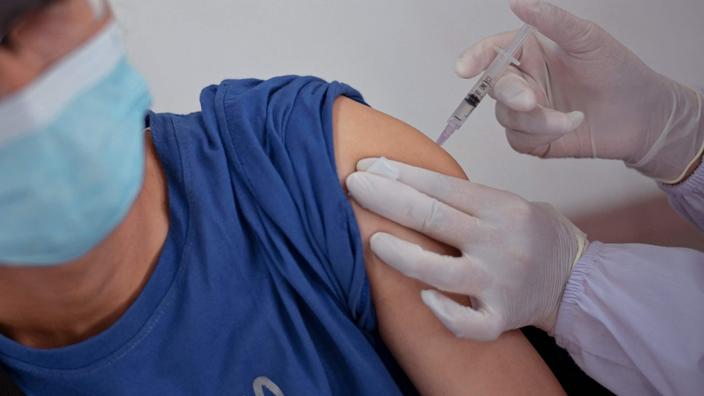 FOCUS- The high rate of contamination linked to the Omicron variant worries some people: does an infected person run a risk by being vaccinated?
On Thursday alone, 305,322 new cases of Covid-19 were detected, reports Public Health France. Since its appearance, the Omicron variant has had an extremely high rate of contamination, which, in the context of vaccination, worries some people: in the event of asymptomatic positivity, is there a risk of being vaccinated? In other words, is it dangerous to receive an injection if, without knowing it, one is contaminated?
Read alsoCovid-19: with the outbreak of cases, should we still test everything?
Several scenarios emerge. First of all, when there is a contact case at the time of the vaccination appointment. "If a person is a contact case, vaccination must be postponed and a test carried out to confirm or not an infection. If the test is negative, vaccination can then take place. If the test is positive, you should wait at least two months after the end of symptoms to get vaccinated"replies the Ministry of Health.
If you have symptoms, get tested. "If the test is positive, you should wait at least two months after the end of symptoms to get vaccinated," we continue at the ministry.
Is it risky when you are asymptomatic?
It is also possible to be contaminated without realizing it, that is to say to be asymptomatic. "The Covid infects cells and multiplies without the person feeling symptoms such as fever. You can infect and carry the virus without feeling the slightest symptom."recalls Mathieu Molimard, head of the medical pharmacology department at the Bordeaux University Hospital. Moreover, the department does not judge "not useful to be automatically tested before getting vaccinated". This can increase the possibility of being contaminated without knowing it at the time of vaccination.
Read alsoOmicron: the hope of finally emerging from the pandemic
"Since the person is already infected, they have already developed the antibodies that the vaccine is intended to induce, so there is probably no point in getting vaccinated.», analyzes Frédéric Altare, director of the immunology department at the Nantes-Angers Cancer and Immunology Research Center, with our colleagues from Sciences et Avenir. "There will be no health consequences, it will not be dangerous", reassures Mathieu Molimard. Getting vaccinated and being positive for Covid-19 therefore does not lead to any health complications. The only real risk is the uselessness of the injection, since antibodies are already present in the body.
.