Covid-19: it is no longer necessary to confirm an antigen test by a PCR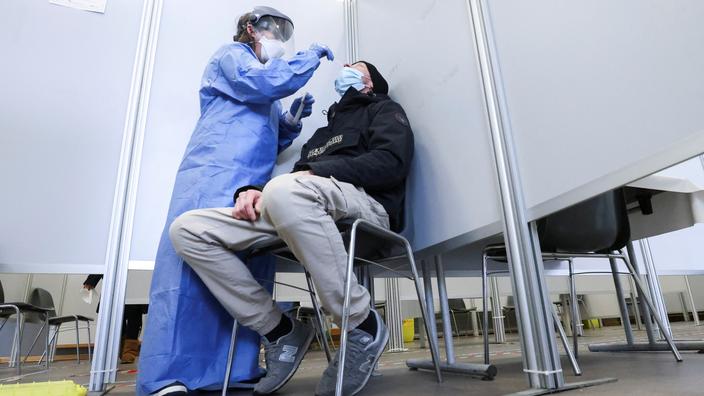 This obligation is lifted by the Ministry of Health in the face of "intense viral circulation". The measure aims to unclog laboratories.
With more than eight million tests carried out between Christmas and New Year's Day, last week saw a new record set – which is not without consequences on the activity of laboratories and on the capacities of the SIDEP platform, which provides access to the result of a test, and which has experienced significant slowdowns for a few days linked to the saturation of the service.
Read alsoCovid tests: slowdowns on the SIDEP platform annoy pharmacists
As a result, the rules are changing for French people who test positive for Covid-19: confirmation of a positive antigen test by a PCR test is no longer an obligation. This clarification already appeared in the "DGS-Urgent" letter sent by the ministry to caregivers on Sunday January 2, specifying the new provisions to be observed in terms of isolation of positive people or contact cases.
SEE ALSO – Covid-19: the French test leader is setting up a workshop in a parking lot to meet demand
Whether positive or negative, an antigen test is now sufficient to decide whether or not to isolate, without the need to do a PCR test immediately. "Due to the intense viral circulation, it is no longer necessary to confirm an antigen test result by PCR", Thus soberly details the Ministry of Health. On the other hand, a positive self-test must be confirmed, either by an antigen test or by a PCR test.
François Blanchecotte, president of the National Union of Biologists, confirmed this change in the rules to France Info , specifying that this new protocol will help relieve laboratory congestion. Three tools therefore remain available to the French to detect a possible infection: self-tests, antigenic tests and PCR tests – but only self-tests are considered insufficiently reliable and must be confirmed. Thus, for the infection to be taken into account and for a certificate of recovery to be issued seven days later (allowing the date of the booster vaccine dose to be postponed), the test must be an antigen or a PCR, since it must have been carried out by a healthcare professional.
.