Covid-19: overwhelmed, the West Indies forced to sort their patients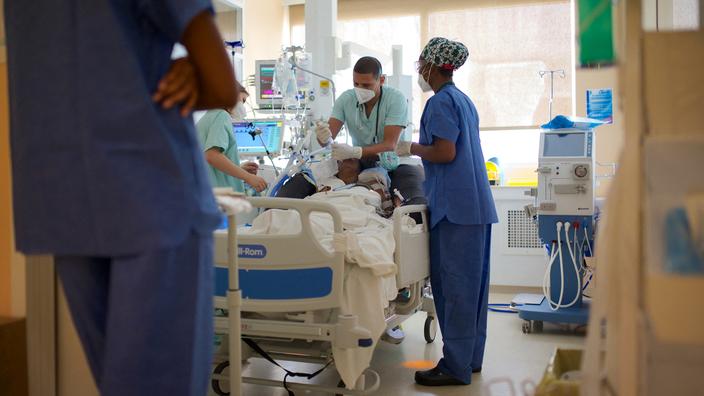 In a few days, the massive arrival of Covid-19 cases in hospitals in Guadeloupe and Martinique forced healthcare staff to make a terrible choice of priority patients.
"This unvaccinated man, infected with Covid-19, will die in a few hours. He is not eligible for resuscitation, but he is on morphine to shorten his suffering. Here, sorting patients is everyday". Joël, an emergency physician from Martinique, expresses his concern about Twitter. In his University Hospital of Fort-de-France, services are crumbling under the continual flow of patients, but there is insufficient space for all. "On a daily basis, around twenty patients would need resuscitation, but we are saturating: only 5 or 6 places are released each day.», Explains Benjamin Garel, general manager of the Martinique University Hospital.
Read alsoCovid-19: in Guadeloupe, the Pointe-à-Pitre hospital is overwhelmed
Guadeloupe faces the same dilemma: in Pointe-à-Pitre, since Monday, patients from the age of 50 are no longer systematically received in hospital, a border which until now held at 60 years. "Patients over 50 and those below with at least one comorbid factor are no longer intubated", Thus entrusted to the Voix du Nord two nurses from Dunkirk, an echo also shared by several other reinforcements from France.
"We reason ethically"
Come to "to sourt outPatients at the entrance is a terrible prospect for the nursing staff. "It happens that for reasons of availability of beds we are forced to make difficult decisions», Continues Joël, emergency physician in Fort-de-France. Valentin de la Noue, intern in Champagne and member of the National Association of Young Intensivist Resuscitators, will be flying in a few days to join the reinforcements in Guadeloupe, and already knows what awaits him. "Sorting is the daily life of resuscitators, even in normal times. The decision is simply logical when resuscitation and its invasive practice may put too much strain on the patient, given their physiological capacities. But the choice becomes problematic when it is no longer the sole interest of the patient, but a lack of resources and beds.".
With the help of the metropolis, the university hospitals have already more than doubled their reception capacities. In Guadeloupe, "149 of the medicine beds are dedicated to Covid patients. Only 5 are still empty", Director Gérard Cotellon told AFP on Wednesday. In Fort-de-France, 45 resuscitation beds were made operational on August 12, followed by 10 army beds. "We have 88 sheave beds, compared to 20 normally», Indicates the Prefecture contacted by the Figaro. Efforts which, despite everything, turn out to be insufficient in view of the needs. With an explosive incidence rate of 2,175 in Guadeloupe and 1,115 in Martinique, doctors know that the worst is yet to come.
Read alsoCovid-19: the reasons for the rejection of vaccines in the West Indies
"We reason ethically: in concrete terms, we assess who is most likely to get out», Explains to Figaro Benjamin Garel. "The choice may be related to age, but also to co-morbidities and physiological conditions in general. We do it on a case-by-case basis», Explains the director of the CHU of Fort-de-France, specifying that the cases in intensive care are far from being the oldest. "The average age is constantly falling. Today, a third of our beds are occupied by young people between 20 and 35 years old», Says the director. "Some days the patients we see do not exceed 40 years old".
As a last resort, transfers to France remain. On Wednesday evening, an Air Caraïbes plane again evacuated eight Covid patients in respiratory distress. Other staff reinforcements are also planned from the metropolis. Next Friday, 300 doctors, nurses and orderlies will fly to the West Indies to support their colleagues, after two first flights of 240 white coats in early August, then 120 others last Tuesday.
.