Covid-19: these departments where the incidence rate is still on the rise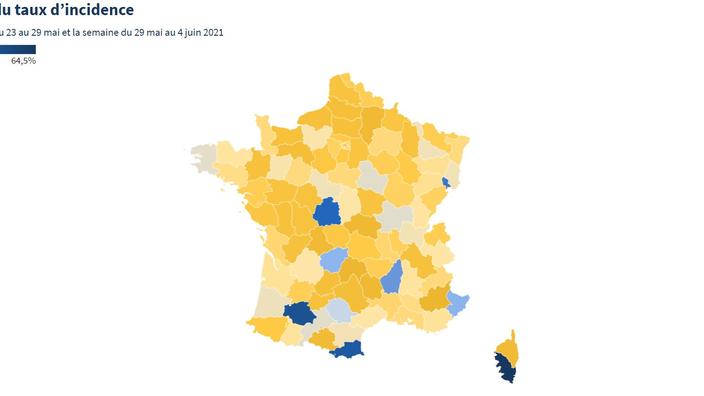 Despite a national drop, the incidence rate (number of cases per 100,000 inhabitants) continues to increase in some departments.
As of Wednesday, June 9, the party will continue until 11 p.m., and establishments, cafes, bars and restaurants will be able to welcome their customers indoors. As this new phase of deconfinement approaches, the executive is delighted to see the health situation improve and the incidence rate drop. It fell below the fateful bar of 100 cases per 100,000 inhabitants, a far cry from the 600 cases per 100,000 inhabitants recorded in Île-de-France last March.
Read also :Covid-19: is the epidemic situation in the South-West really worrying?
"All indicators are green, the incidence is below 100 (per 100,000 inhabitants), the situation continues to improve strongly across the country", Estimated the Minister of Health, Olivier Véran on BFMTV on Sunday 6 June.
SEE ALSO – Covid-19: "Warning signs are emerging in certain territories", warns Gabriel Attal
However, the situation is disparate. And if the incidence rate decreases overall according to data from Public Health France – 72 cases per 100,000 inhabitants – between the last week of May and the first of June, it is still increasing in some departments.
Read also :Curfews, restaurants, teleworking …. What will change for the French on June 9
Thus, in Corse-du-Sud, Pyrénées-Orientales, Gers, Indre, Alpes-Maritimes, Ardèche, Tarn, Territoire de Belfort, Corrèze, or even in Réunion, Saint-Martin or Guyana, the incidence rate has spread. on the rise in recent days.
Eight departments maintain an incidence rate greater than 100 per 100,000 inhabitants. The first three are overseas territories: Saint-Martin (345.3), Guyana (302) and Réunion (141.2).
In Corse-du-Sud, if the incidence rate remains low (28.3), the evolution is the most spectacular, since the department experienced a rise of 65.5% between the end of May and the beginning of June.
27 departments remain below 50 cases per 100,000 inhabitants: Mayotte, Haute-Corse, Creuse, Martinique, Saint-Barthélemy, Lozère, Alpes-Maritimes, Corse-du-Sud, Cantal, Ariège, Charente, Charente-Maritime, Nièvre, Aube, Var, Lot, Aveyron, Drôme, Alpes-de-Haute-Provence, Vienne, Hautes-Pyrénées, Moselle, Vaucluse, Haute-Vienne, Dordogne, Indre-et-Loire.
.