Covid-19: two injections and an infection now dispense with a third dose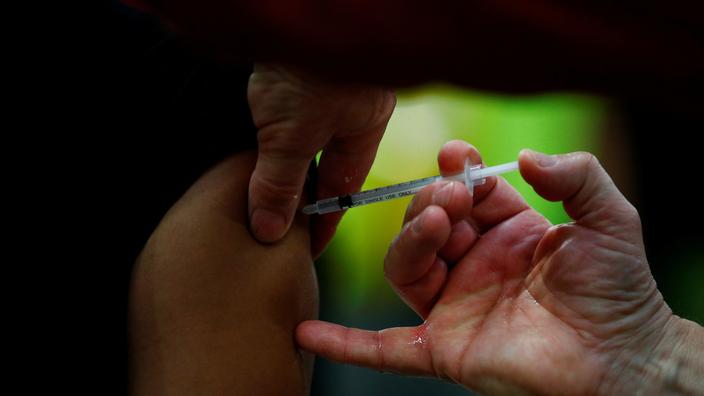 On the BFMTV set, Olivier Véran announced that an infection was now equivalent to an injection to obtain a valid vaccination pass.
This is one of the important pieces of information from Olivier Véran's speech. Invited on BFMTV on Wednesday evening to answer questions from the French for almost two hours, the Minister of Health made a major simplification to the vaccination process put in place by the government. Until now, Covid-19 infections did not really count in obtaining a complete vaccination schedule: they simply delayed the administration of the booster dose. From now on, "one injection = one infection", announced the minister.
Read alsoCovid-19: the vaccine pass could be canceled "well before July" according to Olivier Véran
"To benefit from the pass, your immune system must have been stimulated three times", justified Olivier Véran on the set of BFMTV. "A stimulation, it can be a vaccine injection or an infection", he specified. A major shift in government strategy. Le Figaro takes stock of the different scenarios.
No need for a booster dose if…
Several scenarios now dispense with an additional dose of vaccine:
When you have received two injections and you have been infected at least once with Covid-19the third dose will not be compulsory, even if it remains strongly recommended and without any risk.
When you have received a single dose of vaccine and have had two infectious episodesyour health pass will also remain valid without time limit, as if you had received three injections.
Read alsoIs Covid-19 "twice" more lethal than the flu?
A decision "more than logicalfor Professor Jean-Daniel Lelièvre, head of the clinical immunology department at the CHU Henri-Mondor in Créteil. "We now know that an infection protects better against reinfection than an injection.", explains the vaccine specialist at the Figaro. And to clarify:During a vaccination you have a stimulation on a single protein, which lasts quite a short time, and the effect of the vaccine will therefore gradually disappear. During an infection, you have a prolonged stimulation and the induction on the memory cells is much more important".
The booster dose remains mandatory if…
On the other hand, Olivier Véran mentioned two scenarios in which an additional dose of vaccine will be necessary:
When you have never had an injection, you will have to have one administered, even if you have been triple infected, to benefit from a valid vaccination pass. "You must have received at least one dose to boost immunity", recalled Olivier Véran on BFMTV.
When you benefit from one injection and one infectionyou will need to do a booster dose within four months, starting on February 15.
Read alsoCovid-19: why has the recovery certificate gone from 6 to 4 months?
For the latter case, Professor Lelièvre is skeptical. "All the publications today prove that a single injection is more than enough with an infection", he recalls. "Immunologically, it is not justified to repeat stimulation ad vitam", he adds. But according to Jean-Daniel Lelièvre, "there is the scientific reality and the complexity of the messages depending on the situation". By proposing a single scheme with three boosters (injection or infection), the government wishes that "everyone is in the same boat, for greater readability"says the doctor.
.