Covid-19: vaccination of children, instructions for use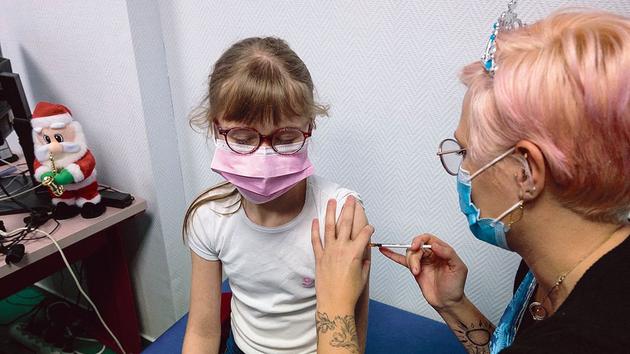 Vaccination every 5-11 years has been open since Wednesday.
It's the children's turn. The Minister of Health on Wednesday formalized the opening of vaccination every 5-11 years: they are therefore 5.77 million to be able to make an appointment, on a voluntary basis.
Why have the authorities given the green light?
"The current context of strong viral circulation reinforces the need to vaccinate children of this age group without further delay. Children attending primary school are in fact the population among which the virus circulates the most. " After the Ethics Committee and the High Authority for Health, the orientation council of the vaccine strategy in turn said on Tuesday in favor of the generalization of vaccination for 5-11 year olds.
Read alsoCould the new Novavax vaccine convince the last recalcitrant?
These three instances highlight the individual benefit for children, because if the severe forms of Covid-19 rarely affect them, Lise Alter, director of medical assessment at the High Authority for Health, recalled Monday that "80% of severe forms are found in children without comorbidity", especially PIMS (pediatric multisystem inflammatory syndrome). And the increase in incidence goes hand in hand with an increase in complications: according to Olivier Véran, 145 children were hospitalized in France on Wednesday, including 27 in critical care. Before making a decision, however, the authorities were awaiting pharmacovigilance data from the United States in particular, where 7 million children under 12 have received a dose. These data are "Still limited but reassuring in the short term", according to the HAS: they identify around thirty serious adverse events after injection, including 8 confirmed cases of myocarditis, the clinical course of which is favorable, and two deaths, but which concerned children already suffering from very serious diseases.
Where can children get vaccinated?
A little more than 190 vaccination centers already have dedicated pediatric lines, according to the Ministry of Health, which specifies that this number should increase to 350 distributed throughout the territory by the end of the month. "Quickly, almost all of the centers are intended to open at least one pediatric vaccination line", provides the Directorate General of Health, which adds that specific slots are provided especially weekends but also Wednesdays and at the end of the day. The santé.fr site offers a dedicated filter, "centers vaccinating 5-11 year olds", and parents can make an appointment through the usual channels, such as Doctolib.
Read alsoCovid-19: are we better protected after an infection or after a complete vaccination schedule?
In these centers, the vaccine can only be administered by staff who are used to treating this age group, doctors or nurses. Children can also receive their injection from their pediatrician or general practitioner, who must start receiving the doses they ordered between December 24 and 28, according to the DGS. A downside, however: "We are told that we must vaccinate but we are given access to a vial of ten doses per week only", deplores Brigitte Virey, president of the National Union of French Pediatricians (SNPF).
With which product?
Only the Pfizer vaccine is authorized for 5-11 year olds. It is the same product as for adults, but at lower doses: 10 micrograms, or one third of those given to parents. France is due to receive 1.9 million pediatric doses in orange-lidded vials in December, then another million in January. Could we consider dividing the adult doses if the demand was too high? This has already been done in some countries for very fragile children who urgently need to be protected, explains Lise Alter. "But this is not desirable in the long term because it requires handling, with the risk of errors." This is why the HAS gave the green light to start this vaccination campaign. "As soon as doses suitable for children were available".
What steps to follow?
Vaccinating children can be a dilemma for many parents: a survey by Public Health France this month indicated that more than half of them were not ready to do so. The agreement of both parents is in any case not necessary, "Which is also valid for divorced parents", specifies the Ministry of Health. The presence of one of them is compulsory and a signed authorization form must be submitted before the injection.
Read also"We haven't stopped since this morning": on the eve of the holidays, the Covid-19 screening centers overloaded
Before the injection, the HAS recommends carrying out a rapid serological test (Trod) "In the absence of a known and documented history of Covid-19" (further knowing that a period of two months must be respected between infection and vaccination). If the Trod is positive, a single dose is sufficient. If it is negative, a second injection should be made 21 days later. This prick of the fingertip to take a drop of blood is not mandatory. "Families can oppose it but if it allows them to give their child only one dose, they have no real interest in refusing", believes Brigitte Virey, who practices in Dijon. She reminds that vaccinating a child takes longer and that"We must explain to him how and why we make the vaccine".
SEE ALSO – Children, teenagers: the sacrificed in the management of Covid-19?
.