Covid-19: vaccination open to over 70s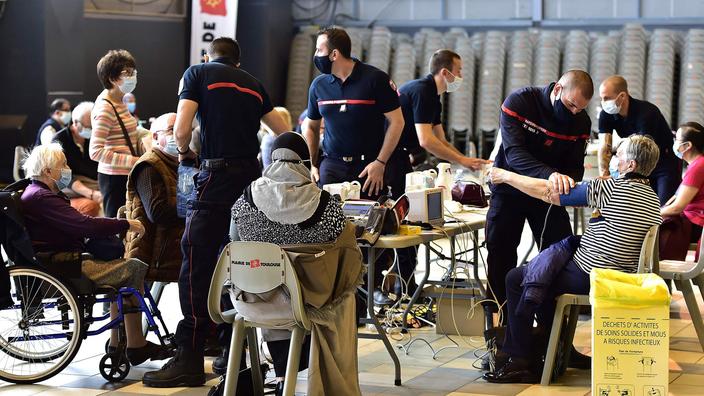 Since this Saturday, March 27, all people aged 70 to 74 can be vaccinated.
The list goes on. Emmanuel Macron had promised this week during a trip to Valenciennes (North): vaccination is now open to over 70s since this Saturday. Until now, it has only been reserved – apart from co-morbidities or health personnel – over the age of 75. We must vaccinate "everyday","morning noon and evening», Trumpeted the Head of State.
Read also :Emmanuel Macron caught in the turmoil of the epidemic
In concrete terms, you can make an appointment at a pharmacy, at your doctor's doctor to benefit from the AstraZeneca serum or at a vaccination center to receive the Pfizer or Moderna vaccine. However, some areas still suffer from a shortage of doses. This is the case in Indre: "It's very complicated, the supplies. I was unable to order my bottles. All pharmacies start ordering at the same time», Regrets Gwenaëlle Wittevrongel, pharmacist of Saint-Gaultier interviewed by France Bleu.
Other regions are affected. This Saturday morning, a vaccination center in Denain, in the North, a department yet very affected, had to cancel 550 appointments, reports France 3. Of the 1200 doses planned, only 246 reached the caregivers, who preferred to keep doors closed. "If the authorities do not know how many doses they are going to be able to give us, they just have to wait. It looks like a big mess and we don't understand a thing anymore»Answers, exasperated, the mayor of the town, Anne-Lise Dufour Tonini.
Read also :Covid-19: the executive promises "large deliveries" of vaccines next week
The 65-69 year olds will be the next population category to benefit from the vaccine, at the beginning of April. If the doses are there.
.