Covid-19: Véran's alert on a second "violent" wave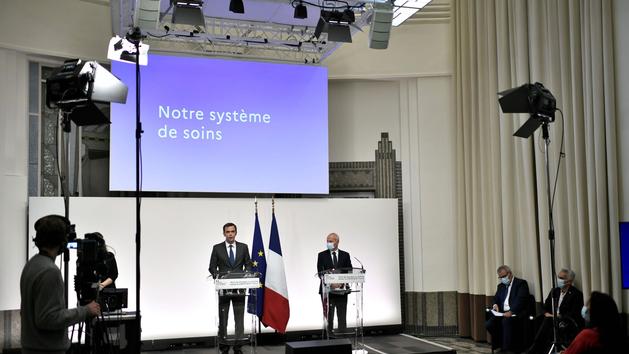 "The second vague is not an abstraction, it is there and it is violent. " The Minister of Health Olivier Véran hammered it several times, this Thursday evening, during his weekly update on the Covid-19 epidemic. The Director General of Health Jérôme Salomon, a familiar face from the first wave who returned to the podium after a long absence, had just spelled out the figures: "58,046 people tested positive yesterday. They are the hospital patients of tomorrow, especially if they are frail or elderly. " The whole of Europe is hit very hard, France even more than its neighbors and "nearly 3,000 new patients were hospitalized in 24 hours, including 347 in intensive care. One in four patients who return to intensive care will not survive. "
The responsibility, repeated one then the other, is that of all: "We must respect confinement" and barrier measures, insisted Olivier Véran, otherwise "This second wave would be higher, longer than the first", with 7000 patients in intensive care (the peak of spring) expected "From mid-November", and "A probable stabilization at least until mid-December".
The goal is to be able to care for all the people who need care

Olivier Véran
Asked about his recent anger in the National Assembly, Olivier Véran explained: "There is never a reason to lose your temper, even if there may be reasons to lose it." the minister had just seen a young man barely 28 years old in an intensive care unit. "We have the right to be marked by it … And I heard a deputy say 'He is going to make us cry' …". The tone was polished but the anger did not subside: "Resuscitation, there are those who have seen it, and those who talk about it", he had slipped a few minutes earlier.
The objective is to be able to treat all the people who need to receive care ", patients with Covid or another pathology, said Olivier Véran. The Minister recalled the efforts made to increase the number of beds: deprogramming, which must be carried out with caution so as not to lose opportunities for other patients, organization of reinforcements in nursing staff and training in resuscitation techniques, medical evacuations in less affected regions …
But that won't do everything: "It would not be enough to double, triple, quadruple or even multiply by twenty the number of intensive care beds" to overcome barrier and containment measures: "Resuscitation, when you enter it, you are not sure you can leave it. We have cardio-respiratory, neurological, cognitive and fatigue sequelae. We cannot speak of resuscitation lightly as if it were only a question of reception capacity. "
The minister also dwelled on a novelty of this second wave: town medicine is this time fully involved. Two doctors from Val-d'Oise, a general practitioner and a hospital, presented plans for home care of patients requiring oxygen therapy and taking treatments such as anticoagulants or corticosteroids. "During the first wave, we aggregated knowledge", they must now be "Redistributed to all care providers" to, as much as possible, free oneself from the hospital, indicated the Dr Édouard Devaud, head of the intensive care unit at Pontoise hospital. "The days and weeks to come will be difficult, concluded Olivier Véran. But we are organized, we have to hold on, and we will hold on. "
.