Creamy Achari Puri is made very easily at home, learn the method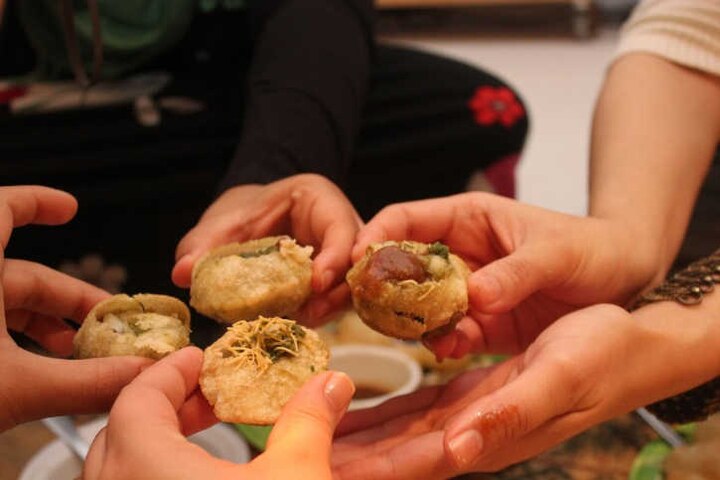 Creamy Achari Puri Recipe Kitchen Hacks : Creamy Achari Poori is a wonderful dish. If you ever feel like cooking and eating something different, then you can try Creamy Achari Poori. It does not take much time to make but it is very tasty to eat. If you feel like making something quick and delicious, then you can make Creamy Achari Poori. Let's know the easy method of making it.
Stuff:
Thick curd 4 tsp
Groundnut powder 2 tsp
Coconut Powder 2 tsp
fresh cream 3 tsp
Onion finely chopped 2 tsp
Tomato seeded 3 tbsp
Capsicum finely chopped 2 tsp
Green coriander finely chopped 1 tsp
Mix Herbs 2 tsp
pickle masala 1 tsp
Salt 1/4 tsp.
how to make
First of all, in a bowl, prepare a mixture by taking curd, peanut powder, fresh cream, coconut powder and mixing it well. Keep the prepared mixture half-and-half aside and add onion, tomato, capsicum, mixed herbs, pickle masala, salt to the remaining mixture and mix it well. Make poori like golgappa or buy golgappa from the market in the middle of it. After breaking the curd mixture which was taken out separately, take one teaspoon each of that mixture and fill it in the golgappas, after that prepare all the golgappas after filling the vegetable mixture and sprinkle the mixed herbs, pickle masala on top. Serve golgappas by garnishing banana leaves with coconut powder.
read this also.
Married Life Relationship Tips: Adopt these 4 tips if your husband starts changing, it will benefit
Health Care Tips: Do not consume salad and soup in this way, health can be harmed
Health Care Fitness Tips: Do these exercises to reduce the fat of the arms, know
.