Detox the body in summer, in this way make 3 types of Detox Water at home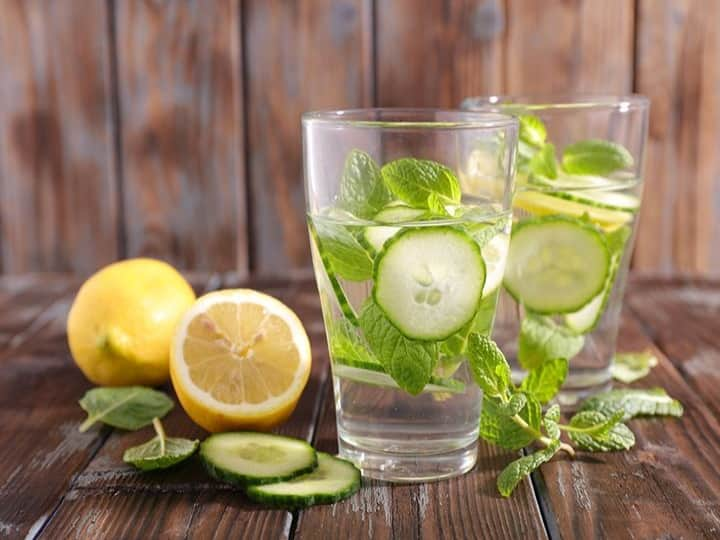 With the onset of summer, there is a shortage of water in the body. There are some people who do not drink much water. If you drink less water then you can make it a little flavored. You can easily make and drink detox water at home. This also makes the water taste good and also helps in weight loss. Make detox water a part of your diet and life especially in summers. Detox drinks play an important role in the digestion of your food. If digestion is good then the weight itself will start decreasing. This also detoxifies your body. Know the benefits of detox drinks and how to make them.
Lose weight with detox drinks
1- Cucumber and mint detox drink- Detox drink made from cucumber and mint not only detoxifies your body but also helps in weight loss. The taste and aroma of cucumber and mint is also wonderful in this drink. When cucumber and mint are put in water, its nutrients also reach the body, drinking it improves digestion. Put cucumber pieces and mint leaves in a glass of water or your bottle every day. Drink this water throughout the day.
2- Lemon and ginger detox drink- You can also make a detox drink with lemon and ginger. If you drink this drink at the right time and in the right amount, then it will help you in losing weight. You should drink this drink with lemon and ginger on an empty stomach in the morning. This will give energy to the body and metabolism will also improve. For this, squeeze half a lemon in 1 glass of lukewarm water and grade a piece of 1 inch ginger in it. Now drink this drink for 2 glasses every day for 2 months. You will see the difference.
3- Cinnamon detox drink- Cinnamon is used for weight loss. Its distinct taste and pungent aroma is to relax the body. You can also use it in detox drinks. Drinking cinnamon drink strengthens metabolism and helps in burning fat. If you want to reduce belly fat, then use cinnamon. Take lukewarm water in a vessel and add a teaspoon of cinnamon powder. Now drink this detox drink while sleeping. Your weight will start decreasing.
Also read: Drinking buttermilk and lassi will reduce weight, in summer the body will also remain cool-cold, cool-cool
Check out below Health Tools-
Calculate Your Body Mass Index ( BMI )
Calculate The Age Through Age Calculator
,