DIRECT. Irruption of pro-Trump supporters on Capitol Hill: follow the reactions in the aftermath of the violence in Washington
Find here all of our live #UNISTS
(Robyn BECK / AFP)
(MIKE THEILER / REUTERS)
In a statement, the former president condemned the intrusion of pro-Trump supporters on Capitol Hill. He denounced the "violent crescendo" in recent months, fueled by the Republicans' refusal to "tell the truth".
(Mark Makela / Getty Images via AFP)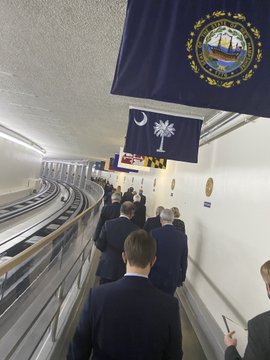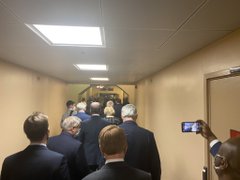 "We will not give in to the violence of a few who want to question" democracy, Emmanuel Macron said in a video, after pro-Trump protesters entered the Capitol in Washington.
• Scenes of chaos in Washington. Supporters of Donald Trump invaded the Capitol last night, interrupting the certification of the presidential election which was to confirm the victory of Joe Biden. The National Guard has been deployed, a curfew imposed. A woman died after being shot and wounded. Follow our live.
• The US Congress rejected a first objection to Joe Biden's certification of victory, hours after pro-Trump supporters violently intruded on Capitol Hill.
As chaos reigned on Capitol Hill, the two Democratic candidates Raphael Warnock and Jon Ossoff defeated their Republican rivals in Georgia. The Democrats therefore regain control of the Senate.
• The European Medicines Agency and then the Commission have given their approval for the Moderna vaccine. The American group will therefore obtain conditional marketing authorization in the European Union for its messenger RNA vaccine.
• China yesterday reported 63 new Covid-19 contaminations in the past 24 hours – a record since July – as authorities strive to contain an outbreak of coronavirus that has appeared in the region bordering Beijing.