Diwali 2020: Make beautiful trendy rangoli at home this Diwali, see latest designs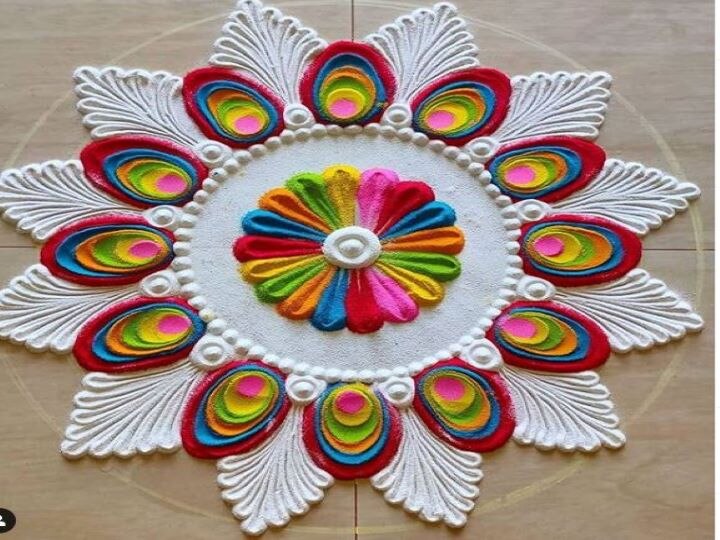 There are just two days left in the festival of Diwali. In almost all the houses, the work of cleaning and cleaning has also been completed. Shopping has also been done. On the day of Diwali, making Rangoli at the main door or place of worship is considered auspicious. Actually, Rangoli is considered a symbol of good luck. Just as Rangoli is made from flour before the Kalash is established during worship, similarly Rangoli is made with colors and flowers on the festival of Diwali.
If you also want to earn a compliment by making beautiful Rangoli in your home on Diwali, then we can help you in this. We have brought some latest and simple rangoli designs which are quite attractive and it is also very easy to make them.
By mixing colors, you can also make such beautiful Rangoli at your home and get compliments.
If you want you can also make this kind of Rangoli
This Diwali must make such a rangoli, your art will definitely be appreciated. Also, your rangoli will also shine in the light of the lamps.
The design of this rangoli is very simple, you can make a circle with the help of a plate.
You can make this Rangoli at the main gate of the house. It will not take much time to make it.
You can also try this kind of Rangoli.
You can make Rangoli by mixing many colors in this way.
read this also
Dhanteras 2020: When will the festival of Dhanteras be celebrated today or tomorrow, also know the auspicious time of worship, method and importance
Diwali 2020: Know the auspicious time of Lakshmi Pujan on Diwali in Delhi, Mumbai and Ahmedabad, Moon and Sun will remain in Libra.
.