Drink Rooh Afza Flavor Shrikhand in summer, know the recipe to make at home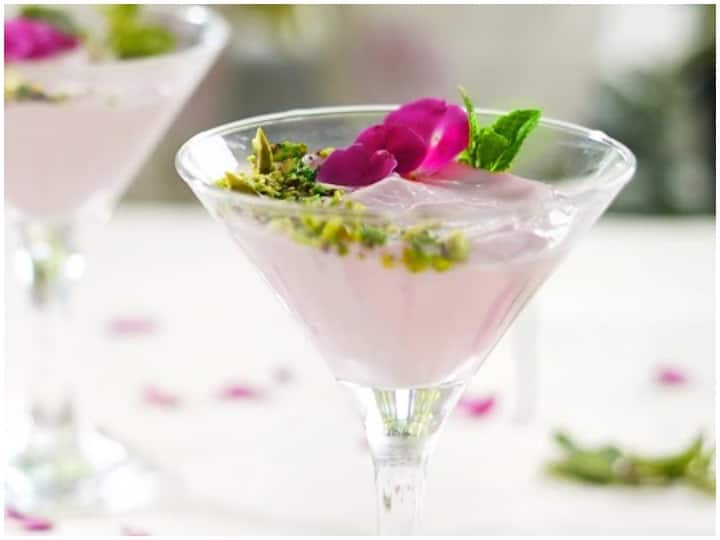 Shrikhand Recipe: To get relief from the scorching sun and sweat, one feels like eating something cold in the summer. Everyone likes cold drinks in summer. It gives relief from heat and also keeps the stomach cool. If you want to try something new, then during the summer season you can make Rooh Afza Shrikhand and drink it. You might have never eaten this flavor of Shrikhand. Rooh Afza is very easy to make and its taste will be liked by everyone from kids to elders. You can serve this Rooh Afza Shrikhand to the guests who come home in summer. Know the recipe of RoohAfza Shrikhand.
Ingredients for Roohafza Shrikhand
Curd – 500 grams

Roohafza – cup

Cardamom powder – 1 tsp

To garnish – Pistachios chopped
Recipe of Rooh Afza Shrikhand
First of all, tie the curd in a cotton cloth and hang it for about 5 hours.

This will remove all the water from the curd and the curd will become thick like cottage cheese. Now beat the curd till it becomes creamy.

Now add Roohafza and cardamom powder to the curd and mix

Keep it in the fridge for about 4 hours to set. This will enhance the taste of Shrikhand.

While serving Rooh Afza Shrikhand, garnish it with finely chopped pistachios.

Shrikhand is very beneficial for stomach in summer. You must definitely include it in your diet.

If you are bored of eating normal flavored shrikhand, then you must try this Roohafza flavored shrikhand.

Similarly, you can eat any other flavor of your favorite in Shrikhand.
Also read: Kitchen Hacks: Drink in summer Thandai made from poppy seeds and seeds will protect you from heatstroke, know the recipe
,