easy recipe of paan kulfi for kids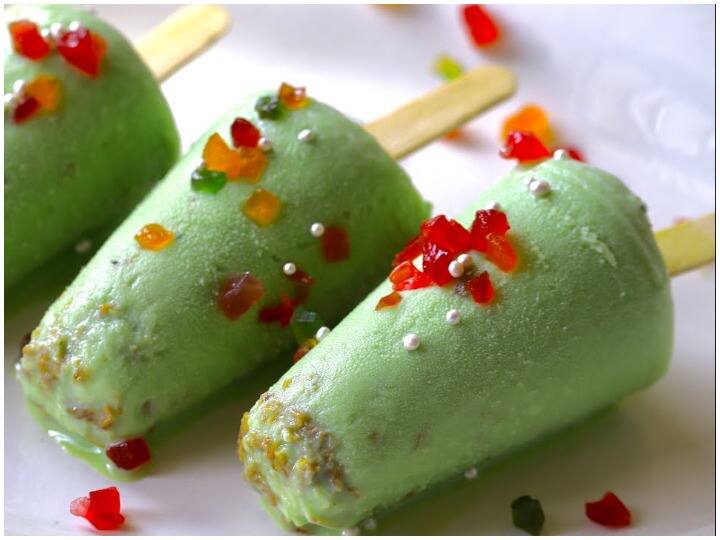 Paan Kulfi Recipe: The fun of eating Kulfi in summer is something else. People often store kulfi of many flavors in their homes. If you like the taste of paan then you can easily make paan kulfi at home. Some people are very fond of eating paan. The mildly sweet taste of Banarasi Paan adds to the taste of Kulfi. In summer, the coolness of paan and the taste of kulfi both look wonderful. If you also like to eat home-made kulfi instead of market, then definitely try Paan Kulfi. Let us know how to make Paan Kulfi at home.
Ingredients for making Paan Kulfi
Cream – 400 grams

Milk – 1 1/2 cups

Powdered sugar – 4 tbsp

Milk Powder – 3 tbsp

Bread Powder – 2 tbsp

Crushed dry fruits – 3 tbsp

Cardamom powder – 1/4 tsp

Pistachios – 7-8 finely chopped

Paan essence – 3 to 4 drops
paan kulfi recipe
1- To make Pan Kulfi, put milk, cream, sugar and milk powder in a mixer jar.
2- Now add bread powder, cardamom powder, betel essence and coarse dry fruits in it and blend for 1 minute.
3- Now pour this mixture into the mold for making kulfi and keep it in the freezer for 8 hours.
4- Remove from freezer and your special paan kulfi is ready.
5- Take out the kulfi, garnish with pistachios and serve.
Also read: Kitchen Tips: Make Healthy And Tasty Sooji Appe For Breakfast, Know Its Easy Recipe
,