Eat this immunity-boosting pickle in winter, prepare this way with ginger-garlic and chilli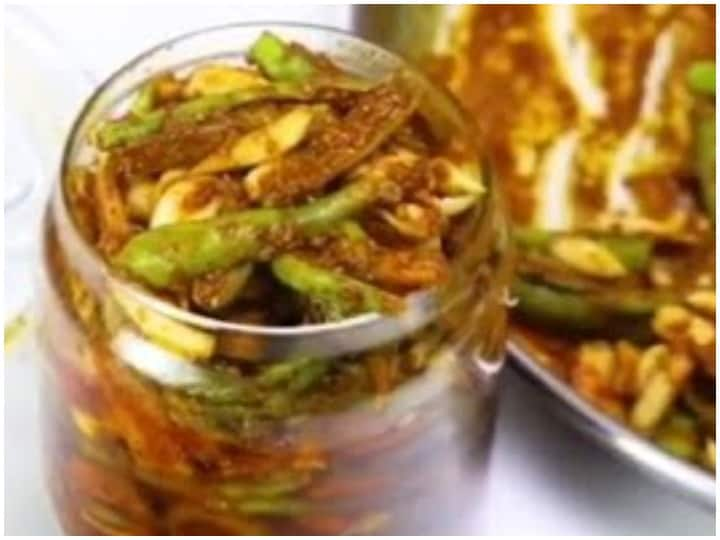 Ginger Garlic Chilli Pickle Recipe: Many types of pickles are made in winter. Ginger-garlic and chilli pickle tastes very delicious with paranthas, maize roti or bajra roti in cold. Eating this pickle in winter keeps the body warm and gives many health benefits. Eating this pickle of garlic ginger increases immunity. Even minor diseases stay away. Know the recipe of making Garlic-Ginger and Chilli Pickle.
Ingredients of Garlic-Ginger and Chili Pickle
Green chili 100 grams
Peeled Garlic 100 grams
Long pieces of ginger 100 grams
Ground mustard 4 tbsp
Fennel 1/2 tsp
Turmeric 1/2 tsp
Asafoetida 1/2 tsp
Fenugreek seeds 1/2 tsp
Celery 1/2 tsp
salt to taste
Mustard oil 1 cup
Garlic-Ginger and Chilli Pickle Recipe
1- To make pickle, first heat a pan on medium flame.
2- Now put mustard, fennel, fenugreek and celery in the pan and fry for about 5 minutes and turn off the gas.
3- When the spices cool down, put them in a mixer and grind them.
4- Now heat the oil well in a pan.
5- When the oil cools down a bit, add turmeric, asafoetida, red chili powder, ground masala and salt to it.
6- Now put chopped chilli, ginger and garlic in a jar.
7- Now pour all the oil mixed with spices from above.
8- Keep the pickle in a glass utensil itself, so that the pickle does not get spoiled for a long time.
9- Now keep the pickle in the sun for about 2-3 days.
10- Delicious ginger, garlic and chilli pickle is ready. You can eat it anytime.
Also read: Kitchen Hacks: If you want to eat sweet, then make delicious sweets from moong dal, take care of health with taste
,