Economic Horoscope August 9, 2021: Taurus, Libra zodiac sign be careful, know horoscope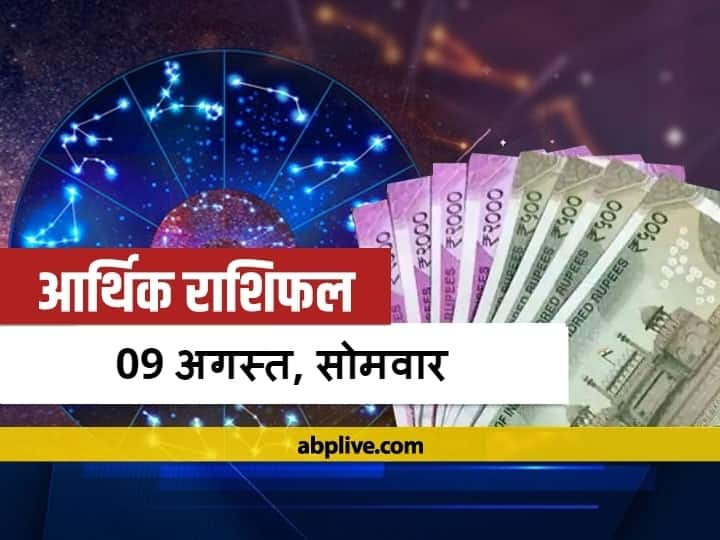 Arthik Rashifal Today 09 August 2021, Aaj Ka Rashifal, Daily Money And Finance Horoscope: According to the Panchang, 09 August 2021, Monday is the Pratipada date of Shukla Paksha of Shravan month. Moon will be transiting in Cancer. How will be today's day in terms of money and commerce, let's know today's economic horoscope.
Aries Horoscope- Good news can be received today in terms of money. Stuck money can also be received. Efforts made to get money on this day will not go in vain.
Taurus Horoscope– Today is a mixed day for the people of Taurus. Today there is a possibility of getting money according to hard work. Keep distance from wrong actions.
Gemini HoroscopeTry to avoid fickleness and over-excitement. Today you will have to be more serious in terms of money, only then you will get the blessings of Lakshmi ji.
Cancer HoroscopeThe transit of Moon is made in your zodiac. Many types of thoughts can come in the mind today. It may take hard work to bring these ideas to the ground. Today there is a situation of sudden profit.
Leo Horoscope– The zodiac change of the planet Mercury is going to happen in your zodiac today. Mercury's transit is going to be auspicious in terms of money. Avoid excessive enthusiasm and arrogance.
Virgo HoroscopeSadness and unnecessary worries will have to be abandoned. Sawan is a Monday. Worship Lord Shiva. Try to improve your image today. Therein lies the benefit.
Libra HoroscopeIf you are successful in creating a balance of heart and mind, then today a situation of profit can be created. You can start a new job. Today can be a good day in terms of money.
Scorpio HoroscopeTake decisions related to money wisely. Otherwise, loss may also have to be incurred. Avoid the situation of taking a loan today. Today the rivals will also be active. Be careful.
Sagittarius HoroscopeToday can be a day in making plans. Today you may have many ideas to earn money. Avoid over enthusiasm and rely on hard work. Be careful in money transactions.
Capricorn HoroscopeToday you may have to showcase your talent. Today there may be some such opportunities where you may have to show your skill. Try to take advantage of these opportunities.
Aquarius Horoscope- If you want to make any changes in job and business, then you can make a strategy for it. Today important and influential people can be met. There seems to be a situation of profit from the relationship.
Pisces HoroscopeWork related to money can be affected today. Be careful in investing. Invest only after understanding the market situation. There seems to be benefit from short trips.
Read also:
Transit 2021: Transit of Mercury in Leo, profit in job-career and business can give big trouble in this matter, know horoscope
Surya Grahan 2021: Lord Krishna saved Arjuna's life due to solar eclipse, killed Jayadratha
Diwali 2021: When is Diwali? This time special yoga is being made on Lakshmi Puja
Chanakya Niti: Never forget these things in the matter of money, there will never be a crisis of money
.