Exclusive: Hemlata breaks silence on controversy with Lata Mangeshkar – she was a mother, what happened to me was her blessing
'From the window of my eyes, I saw that beautiful, you looked far away, looked far away…'
'Who took you in the direction, Rey Batohiya, stay, let this beautiful path, just see it, see it…'
In the world of Hindustani music, if Lata Mangeshkar was a nightingale, then she went ahead on her own path. From 'Nadiya Ke Paar' on the cinematic screen to 'Ramayana' on TV, Hemlata's voice touched everyone's hearts. She is one of the few singers in the industry who not only got the opportunity to work with Lata Mangeshkar but also got the privilege of knowing her very closely. It is interesting that when Hemlata was born, her name was also Lata Bhatt. In an exclusive conversation with Navbharat Times, Hemlata narrated some unheard stories related to the life of Lata Mangeshkar. Hemlata says that she always gave Lata Mangeshkar the status of mother, mother i.e. Saraswati Maa. As the matter progressed, there was discussion about that controversy, those reports were also discussed, in which it was said that Lata Mangeshkar made Hemlata's path difficult, did politics, so that she could not progress much in her career. On this, Hemlata ji not only broke the silence (Singer Hemlata on Controversy with Lata Mangeshkar) for the first time, but also replied with the ease that even those who questioned her and Lata ji's relationship should be ashamed.
When sang for the first time with Lata ji
Hemlata ji is 67 years old. She has sung more than 5000 songs in 36 languages. When we called her to talk about Lata Mangeshkar, she burst into tears when she heard Lata didi's name. Got a little emotional. Then said- I used to call her mother. I have a treasure trove of memories related to my mother. Where should I start, what should I tell, I have to think. A long… very long time. I entered the Hindi film industry in the year 1966. Till 1967, I was in contract to sing a song with Naushad sahab. In 1967, he sang the first song with Lata Didi and after that, a series of songs started with him. During this, going to his house Prabhu Kunj had become a daily thing for me. Today I would say that Lata Mangeshkar was a charisma of God. She was a miracle of the Lord. Great people like Lata didi are not born, they are sent. He was sent from God's place to work for music and he did the same job well. The more I saw them, the more familiar they were about how an artist should treat their music and existence. A lot has been learned from them. I studied Lata didi a lot, I benefited a lot from that learning as much as I could follow her during this study.
Lata Mangeshkar Last Video: The last video of Lata Mangeshkar surfaced, when she was admitted to the hospital a month ago
Don't copy anyone, first thing I learned from Lata didi
Hemlata ji further says- The first thing that I learned from him was that being like someone never benefits an artist. There is only damage. Initially, my songs had the same representations as Lata didi. Voice like Lata didi, move with melody like her, then I had to work very hard on myself. Lata didi had come in my blood, in my blood and Lata didi was reflected in my songs. My father knew this. That's why once he said that son, don't listen to the creeper, listen to other singers, every flower has its own fragrance and color, observe it. I did not listen to Lata didi for a year, as well as working hard on my music with all my heart, which also benefited me a lot, I got my own identity.
Saw his picture on the calendar for the first time
Hemlata tells that she considered Lata Mangeshkar like Saraswati mother, hence the mother used to say. She says- Lata Maa (pauses while trying to take the name), I used to call her mother only, for me to call her mother means Saraswati Maa… because she looked like mother goddess to me. In those days there was no media like today, there was only radio and that was everything for us. The first time I saw his picture on a calendar, I was 11 years old. Before that, listening to him on the radio, sitting on a lotus, holding a garland in one hand and a veena in the other, used to be such a form in my imagination. My life is short, but full of memories related to them.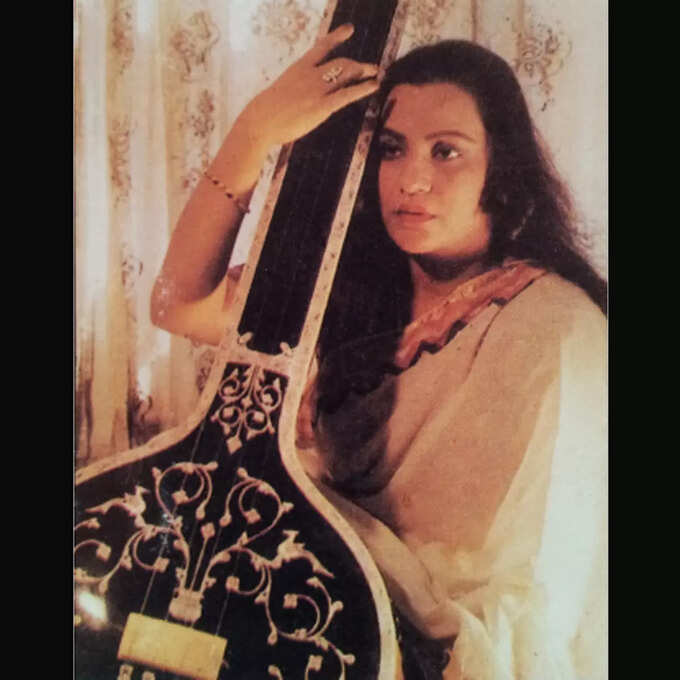 Did Lata Mangeshkar harm Hemlata's career to move forward?
Look, these questions and thinking are a part of this journey. But on the other hand I got the affection of crores of fans from Prabhu. This is my real income. What I asked for mother (Lata didi) was my own sentiment. One sentiment is what the media used to say, that was not my thinking. It is not my job to think or talk about what Lata didi used to do with new people or me. My job is to fight. Don't you think… When Lata didi came, there was no one else in the industry like Lata Mangeshkar. She was a singer of that era, who used to sing in the same camera, same visuals and same audio. This was the period, when the world loved the work of the film industry very much, but no one liked to work here, people did not see the industry well. The fields whose people used to come here in the industry were different. Who was in the field when Lata ji came… and who was in the field when I came… Lata didi herself, whom I used to call Maa Saraswati. Upar se Ashaji, who used to sing cabaret-mujra sub, followed by Usha didi, who used to have good mythological film songs, think how tight the atmosphere was, in such an environment it was a big deal to stop singing, to stand up.
Today my career has completed 54 years, I have sustained my career for 5 decades, it is God's grace. No one could do this. Later, singers like Suman Kalyanpuri, Vani Jayaram, Krishna Kalle, Meenu Purushottam came one after the other, all of them were excellent, but when they came and when they went was not known.

Exclusive: Why Lata Mangeshkar used to wear vermilion on demand? Tabbsum narrated that whole story
Lata didi was conscious about me, this fear is my confidence
What happened to me is a different book, for that I will not say anything. Because whatever happened, it didn't happen in front of me. What happened in the media then is part of the media. not mine The personal experience I have with her, I myself am a fan of her, have experienced her existence, how she gets up and wears, how she behaves in talking to people, her songs and her own style. What attitude to keep with career? If he has done any politics with me, then I have taken it as a blessing. My father had said, look – how conscious she (Lata ji) is about you. It was a big deal that she was not overconfident even after reaching that point. Not thinking that Aane Do Humara Kya Badal Liyegi, she thought of what she would do if her songs became a hit and she became a hit. Even if she was doing politics, she would have been doing it out of fear. My father told me this while explaining. Father also said that instead of crying after reading all these things, work hard. Don't think that some song which you have sung somewhere will get deleted later or that you have got a song, it has been signed, but in the morning you will find that your song is now singing Lata didi. Don't be upset
My well wishers used to say politics is happening with you
Hemlata, while carrying forward similar things happening with her at that time, says- Earlier I used to cry a lot when such things happened, but later I used to sit down to do Riyaz with my Tanpura and vow to correct my shortcomings. Used to take My well-wishers used to say, if this kind of politics is happening with you, then consider it your lucky, you must have found her (Lata ji) Harmful. If you are afraid of them then it is a plus point for you, do more practice. These are all matters of fortune. Even good wellwishers meet fate. The music directors of that time were responsible people. All the music directors gave me the opportunity to sing responsibly and I have survived, have sung more than five thousand songs in 36 languages ​​and am still singing.

Lata Mangeshkar's family does not want a memorial built in Shivaji Park, brother Hridaynath told what is the desire of the heart
Lata didi never used to stand on mike wearing slippers
Hemlata says that today Lata Mangeshkar is not with us. God give courage to his family, to all of us. She says – whatever you say today, the film industry has suffered a great loss due to the departure of Lata didi. Didi is not directly close to us, but indirectly she is and always will be. He has given so much to all of us that I leave those things of him, do not look at such things. I have observed his very good things and he always put his hand on my head with a laugh, apart from him his whole family, Usha didi, Meena ji, Bhai Hridaynath and his wife Bharti are all very nice people, with very good values. are people. May God give patience to his family, the loss has happened, the new generation can learn a lot from them if they want. Lata didi never used to stand on the mike wearing slippers. All this I have seen, learned from them. That's why she will always be with me.

,